Eccentric Shear Connection
Eccentric Shear Connection
What additional failure modes to be checked for an eccentric skewed shear tab compared to a typical orthogonal shear tab. The shear connection supports high axial load as well as vertical shear and connects to a column flange.
I believe the only differences should be as follows
1) global analysis offsets need to be considered which increase torsion in the supporting column
2) flange bending no longer follows the definition of J10.1 of the AISCM, instead the flange should be checked as a cantilever plate with infinite length per chapter 8 of Roarks. ASD safety factor of 1.67 still to be used for tensile yielding of the flange
3) The weld from shear tab to column will be analyzed slightly different to account for the difference in weld geometry
*Are there any other failure modes to consider in this connection not covered here?
*As a general question how does AISC control certain special cases like this where an approved code equation cannot be used? Is there a general blanket acceptance from the code that allows other analysis procedures per the EOR's discretion?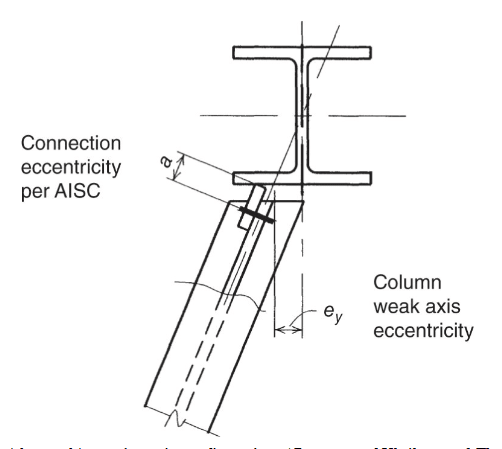 Thanks