Puerto Rican bridge, replaced after Hurricane Maria, wiped out again...
Puerto Rican bridge, replaced after Hurricane Maria, wiped out again...
While I know this was not particularly an 'engineering disaster', it is an interesting engineering story.
During the recent news broadcasts covering Hurricane Fiona, there were several photos and videos showing a bridge being washed away near Utuado, Puerto Rico: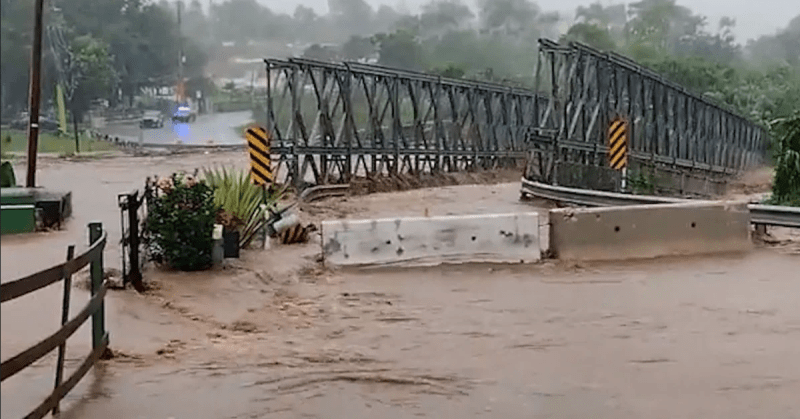 Note that Hurricane Fiona, while not as strong in terms of the classification, which is based on maximum wind speed, as was Maria, it appears to have delivered more rain. It was reported that in some parts of the island, it rained over 15 inches in only three hours.
The interesting thing about this bridge is that it was relatively new, having been built in 2018, replacing a bridge that was destroyed during Hurricane Maria in 2017.
At the time that this, and several other bridges, were being built in Puerto Rico, the company that built these bridges, US Bridge, posted several YouTube videos showing the activities and promoting their company and the technology used to erect these bridges. Below is a video showing the work for several of the bridges that US Bridge was contracted for. At about the 4:25 point in the video is where they show the erection of the bridge near Utuado:
https://www.youtube.com/watch?v=thq3-8jcK4c
US Bridge refers to this as their 'Liberty Bridge'. It's a prefabricated bridge that was delivered to Puerto Rico in standard shipping containers and was erected on site, similar to how 'Bailey Bridges' were built in WWII. The Bailey Bridge, which was first developed by the British, was used extensively by the US Army during and after the war. In fact, when I was in ROTC training (1965-69) since we were a Corp of Engineers unit, we learned about Bailey Bridges because they were still being used, and while I never had to help actually erect one, we did have a tabletop exercise where we assembled a rather large (six foot long) miniature so we at least got to understand how they went together.
Speaking of Bailey Bridges, I've run across a few over the years in my travels. We actually walked across one when our oldest sons were in Scouts. They had a Boy Scout camp down on Camp Pendleton where we had a weekend camp out. One of the activities was to hike down to the beach on the other side of the freeway and along the way there was a Bailey Bridge over a ravine.
Also, when my wife and I took a barge cruise back in 2004 through the canal system, from Strasbourg to Nancy, over the Voshe Mountains in Eastern France. One of the villages where we docked for the night was Niderviller, just inside of Lorraine, from Alsace. And they had Bailey Bridge across the canal, probably left over from the war:
September 2004 (Minolta DiMAGE 7Hi)
John R. Baker, P.E.
(ret)
Irvine, CA
Siemens PLM:
UG/NX Museum:
The secret of life is not finding someone to live with
It's finding someone you can't live without