COMSOL Multiphysics - Electromagnetic Heating, formulae connection
COMSOL Multiphysics - Electromagnetic Heating, formulae connection
Hi,
I am currently working on a simulation where I am using the multiphysics "Electromagnetic Heating".
I aim to discuss the equational connection between the two physics present; "Electric Currents (ec)" and "Heat Transfer in Solids (ht)".
I find my self in question as to how they are both accounted for. By looking at the equations provided by COMSOL, I can quite easily identify the equations used by all three physics but I can't seem to grasp the connection.
The "Electric Current" equations:
The "Heat Transfer in Solids" equations: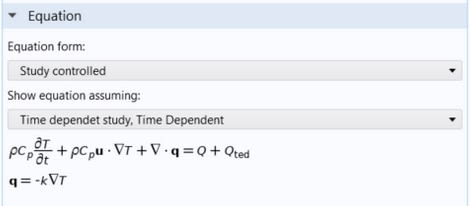 Multiphysics equation:

As far as I can see, there is not much difference between the Heat transfer equation and the multiphysics equation. The difference however, is not clear to me how it should be coming from the electric current equations. The Qe term, does not appear among the electric current equations, even though I would assume this is main contribution.
Thanks in advance.
Best regards,
Gustav Leth-Larsen