Shaft material for 841 impregnated bearings.
Shaft material for 841 impregnated bearings.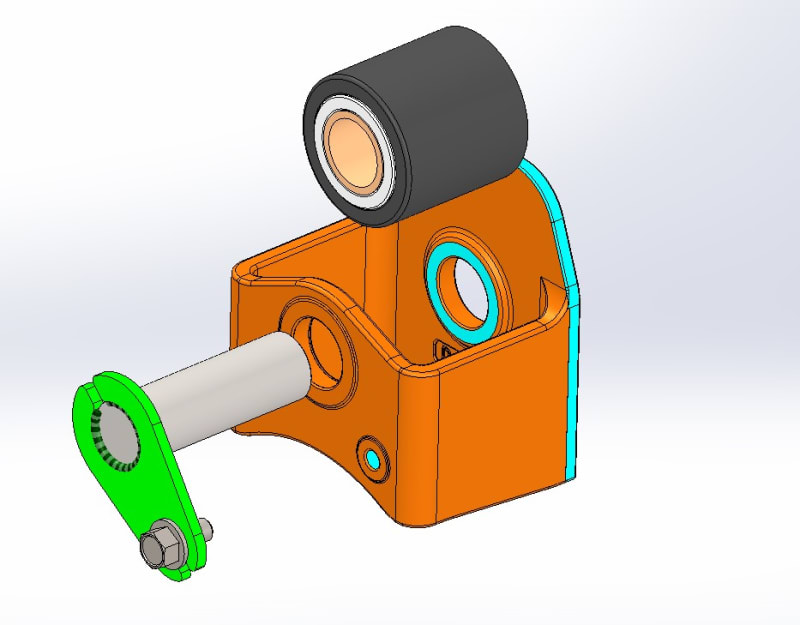 Hello, First post here.
I having trouble deciding what material to use for a shaft on an assembly, semi exposed to the elements. It is a truck mounted roll off dumpster frame side roller.
The bearings are 841 30W oil impregnated for a 1.125 shaft. This is currently in design phase only an not in use. Max RPMs this will see are maybe 30-35, with max 4k lb load for only a few mins a day. Bearing manufacturer recommends a .4% carbon shaft or hardened 400 series stainless and to
avoid
300 series. We currently use a 1045, non hardened shaft, but it is grease-able with .015 clearance. This is my first time utilizing bronze bearings in a repetitive production use. The shaft is also welded to a 304 tang for retention. I do NOT have access to reheating for tempering after welding and preheating, and would be difficult at this time without a vendor to supply me the welded shaft.
1. If 410 or 416HT is chosen, will the small amount of heat put into the end on the shaft after welding cause any cracking using MIG solid core 308 or 309. OR would TIG be more viable for less heat transfer?
2. If 4140 TGP is used, which just happens to have the right surface finish (no trouble welding) I'm concerned if the unit sits for periods of time that moisture will penetrate the bearing surface clearance of only .002-.003 (especially with the side to side clearance total of .100) and cause lock up, especially in our eastern region with road salts, calcium chlorides and general surface rust of the shaft.