LY UNB & UNT in arch Bulk Storage
LY UNB & UNT in arch Bulk Storage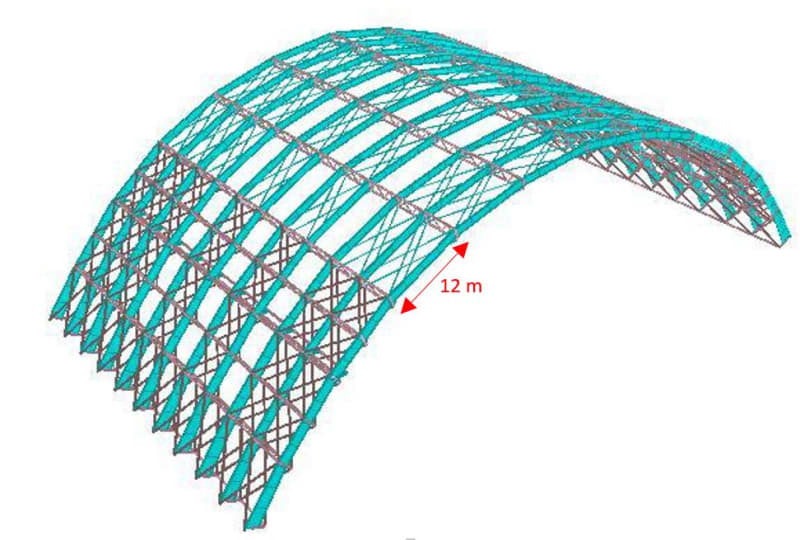 Hi, it's my first post.
I am new in subject of Pre Engineered Building. The picture i attached are a design that my contractor proposed and actually catching my attention, and i'm now doing internet research about this topic (definition of Ly, UNB & UNT), since for this case of arch structure, the member is actually behaving as flexural member and also compression member.
The full design is a bulk storage with a span of 100 meter, height of 30 meter and it was designed using a tapered built up member of I profile.
The profile are very slender, but the contractor reinforce it by giving member stability bracing (as governed by AISC 360 Appendix 6) per 3 meter in form of cross brace, and 12 meter in form of truss.
Hence i understand that in the staad input they define UNT & UNB by 3 meters.
But they also define Ly by 3 meters, in which my senior had comments that since the global lateral force resisting which prevents the rafter to have lateral movement are given per 12 meter, the Ly shall be by 12 meter.
I read this explanation in the C3 commentary:
"Where beams and columns rely upon braces that are not part of the lateral force-resisting system to define their unbraced length, the braces themselves must have sufficient strength and stiffness to control member movement at the brace points (see Appendix 6)."
Could this statement in the commentary section justify what my contractor doing? Since i also have seen many PEB structure that even "crazier" that they rely on purlin as member stability bracing, which i predict not even fulfilling Appendix 6 requirement, but the building is standing still (with lot of prays

)