ASME B31.3 need to know allowable stress factor for API 5l X52 *** urgent response please ***
ASME B31.3 need to know allowable stress factor for API 5l X52 *** urgent response please ***
The engineer is stating per ASME B31.3 Table A-1 does not denote an allowablle stress factor for X52 in the table...
The Material is US made DSAW API 5L X52 PSL II 42" std (.375)
We substituted X52 for grade B and he is not allowing it?
He Writes:
HI Fred
I have communicated this information to the PEI at S***l, see his reply below.
Per ASME B31.3, there is no allowable stress value for API 5L X52 at the temperatures of this system. See snip below.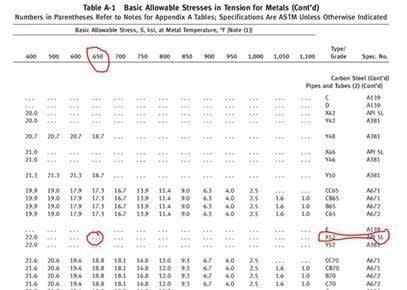 I am seeking a rebutal to have him allow X-52 to be utilized for his application.
As always thanx in advance,
-=Fred=-
Vass Pipe API Line Pipe Industry Leader

People do what you inspect, not expect!