Increasing headroom to existing PT beams to parking structure
Increasing headroom to existing PT beams to parking structure
This was an interesting project that I thought I would share:
New multi-level parking structure, constructed with PT beams spanning 60' (Cunningham form system) with transverse PT 1-way slabs spanning 25'. Structure got topped-off last month and it was discovered during a round of inspections that 6 beams to lower levels had insufficient headroom, by magnitude of 4".
The contractor was expecting to have to demolish the beams full-depth and re-form and re-do to shallower and wider dimensions. Given the beams are post-tensioned (14 unbonded tendons in 2 bundles/groups of 7 each), the tendons would have to be first de-tensioned before demolition could be accomplished.
De-tensioning is not difficult (albeit somewhat dangerous), however, what do you do with 14 cut tendons that have to be spliced to new tendons for the new re-configured beams? Splicing hardware for unbonded PT is typically 2" dia x 4+" long. With 7 tendons in a bundle, even if they splicing hardware was staggered, accommodating the spices was near impossible,
Removal and replacement of the existing strand tendons over the full 60' beam length would also be difficult. Although access to the live-ends was possible (even though the stressing tails had been cut off), access to the fixed-ends were inside RC columns so significant concrete removal would be required to the column face, and some anchorages may be 'hidden' behind longitudinal column rebar making access even more difficult.
We developed an alternative beam-reduction method. Maintaining the existing PT, we re-profiled the tendons whilst 'live' and fully-stressed, via concrete chipping and removal approx 8" of beam soffit concrete, then using vertically-orientated hydraulic jacks we re-profiled the live tendons by raising them by 4", creating a new 2-point harped tendon profile. We used XX-strong concrete-filled pipe sections at the harp points to act as deviators of the PT forces. 
Given the beam was to be now 4" shallower, the beam was widened by 8" (4" each side of existing web) and 6 new/added tendons were installed in the new 4" thick concrete 'beam web composite jacket' that was placed using self-consolidating concrete (SCC).
Here it is in photographs:
Controlled concrete removal of 8" depth x 16" width to center 1/3rd span: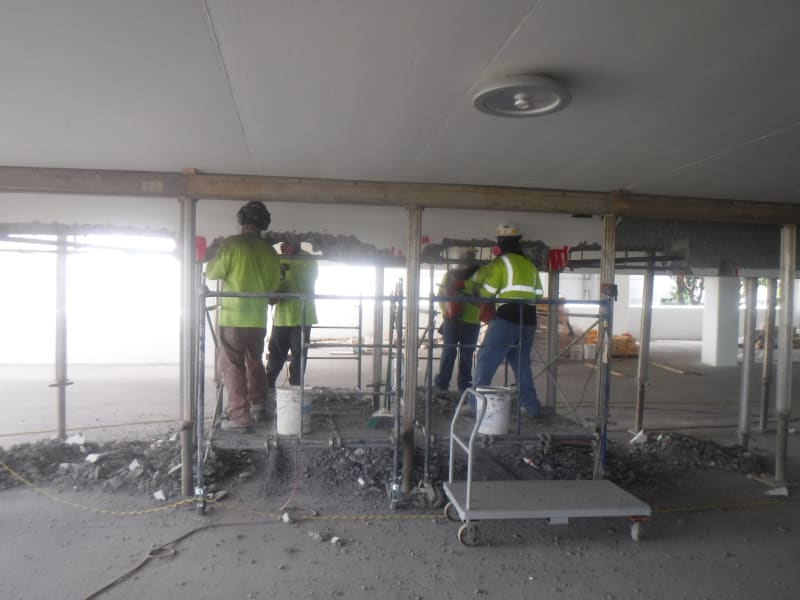 Concrete removal at temporary 'concrete node' with temporary steel tube packing installed: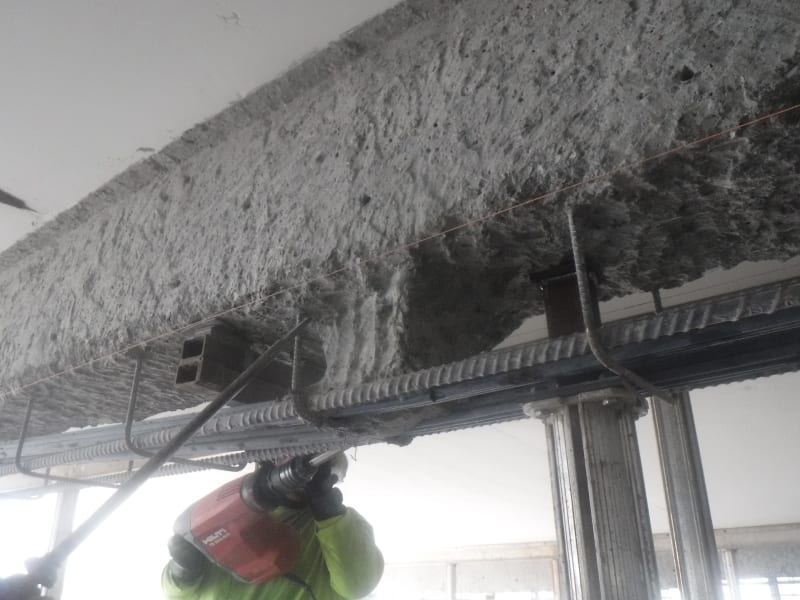 Temporary bolt-on brackets and hydraulic set-up for re-profiling live tendons: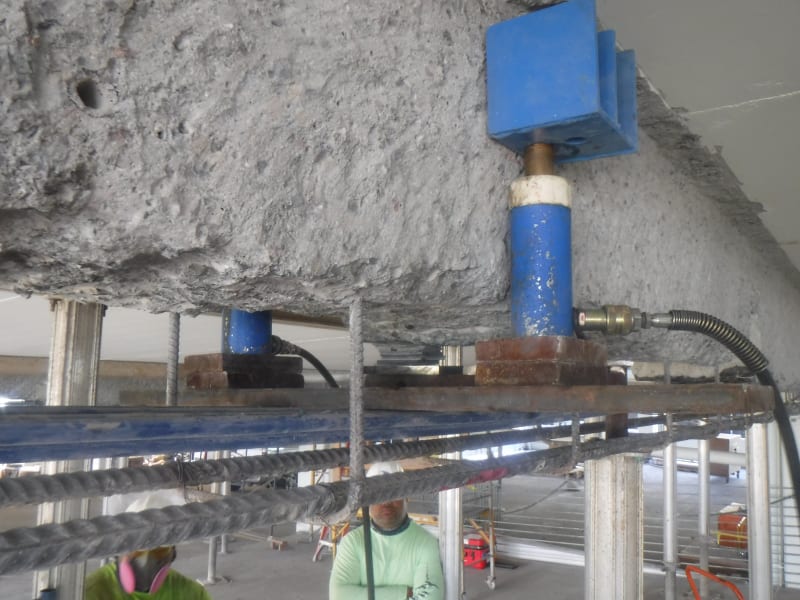 Resulting beam after tendon re-profiling by 4":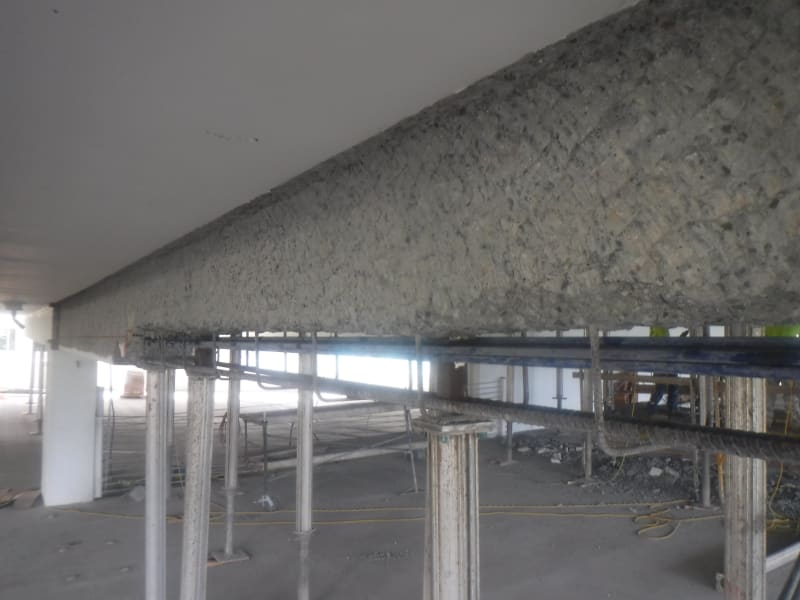 Concrete-filled steel pipe deviator grouted into existing beam web: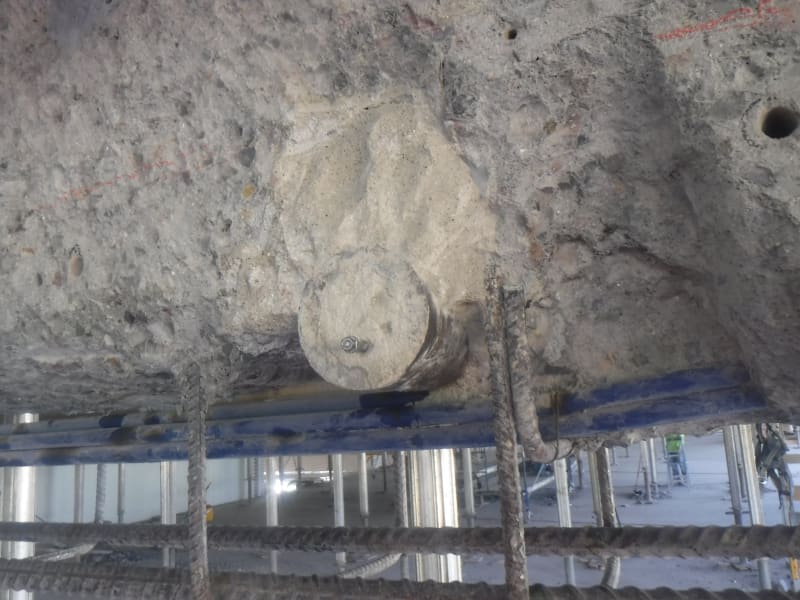 Additional PT tendons were added to the 4" thickening each side, along with embedded rebar dowels and additional longitudinal rebar: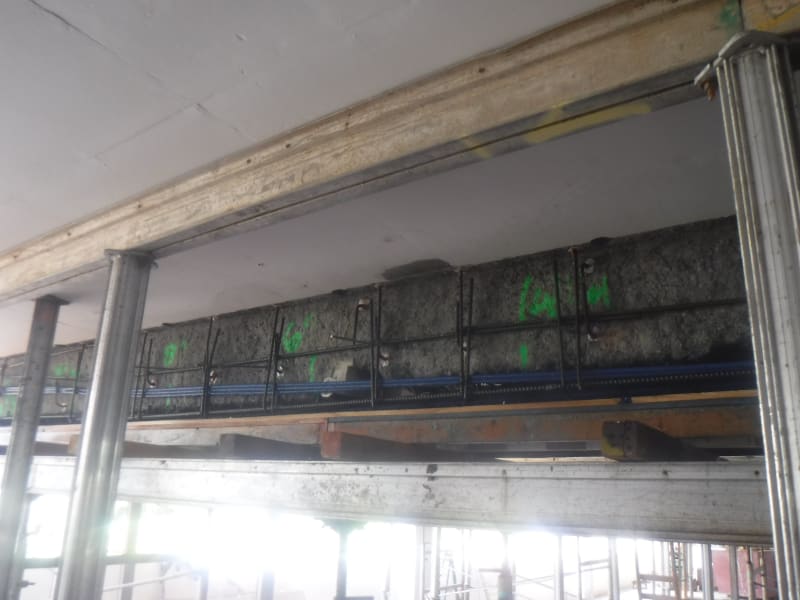 Added PT tendons were anchored using through-column drill holes and partially embedded bearing plates for stressed-ends: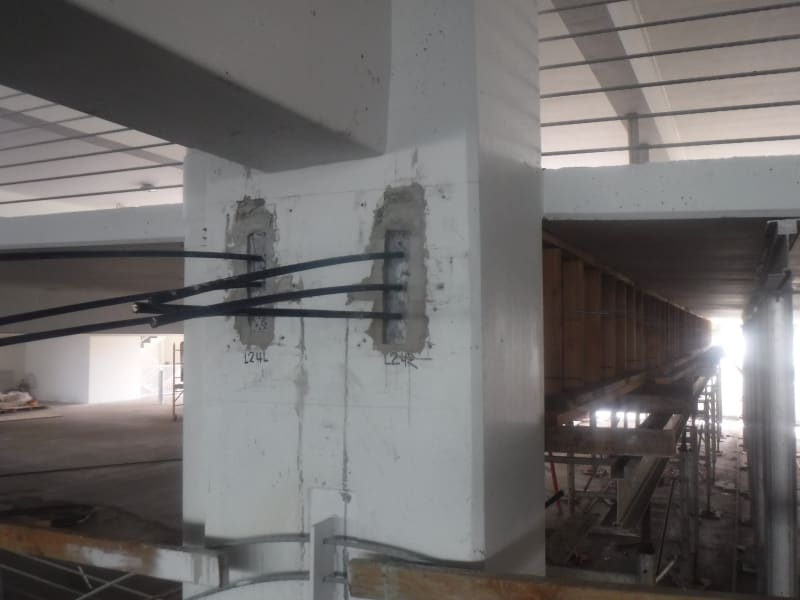 Fixed-end anchorages were custom stiffened steel plates through-bolted and epoxy injected through the existing beam web: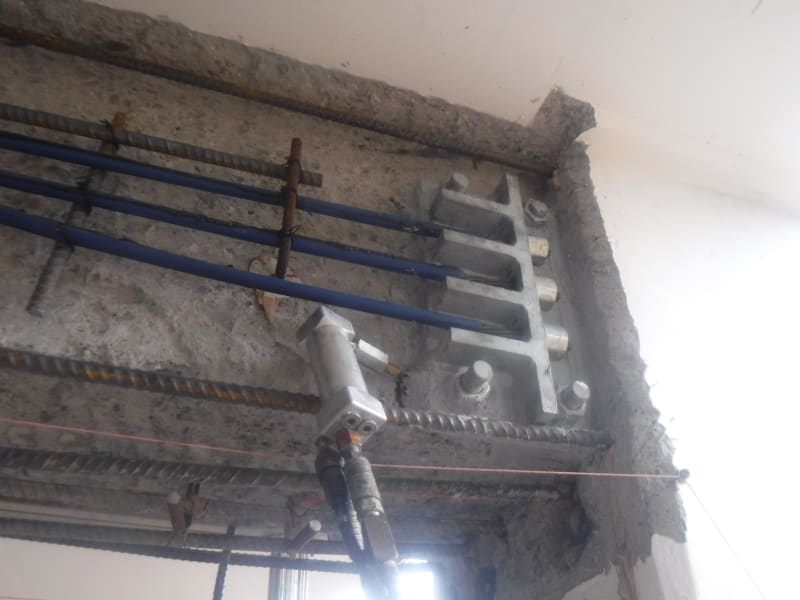 When all completed it visually blended with the other beams: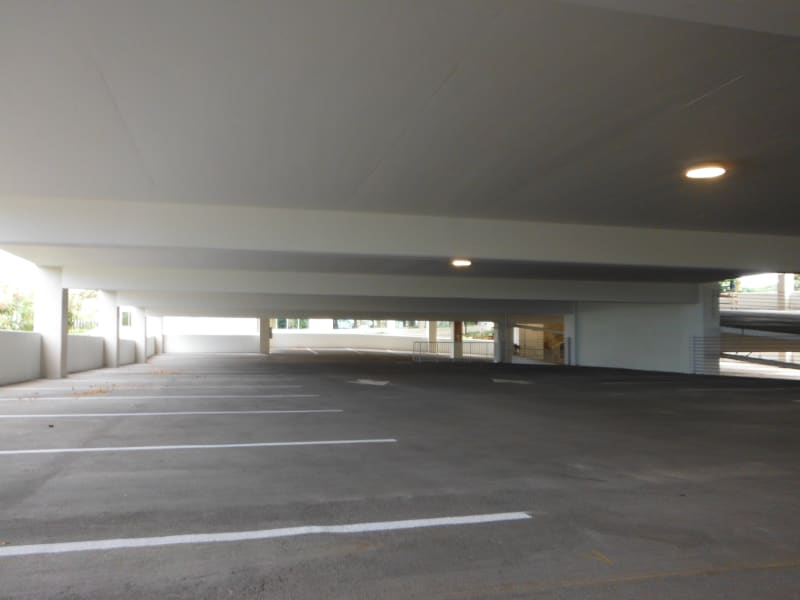 This alternative method resulted in significantly less concrete demolition (8" depth vs 25" depth) and hence time savings.
There is significant risk associated with concrete chipping around live and exposed PT tendons, however, I am pleased to report that no damage to tendons occurred. Do NOT attempt such work unless experienced.