Connector/receptacle/plug suitable for motor power connection
Connector/receptacle/plug suitable for motor power connection
Hi,
I am working on a project in which I will be using a variable frequency drive to drive a ½ HP asynchronous AC induction motor. The drive will be inside a control panel that will most likely remain in a single location. The motor will be located in separate assembly that (when in use) will be approximately 6-12 feet from the Control Panel. When not in use, the intention is to disconnect and remove the motor assembly.
For the power connection from the drive to the motor, the drive manufacturer recommends the cable types shown in the following image: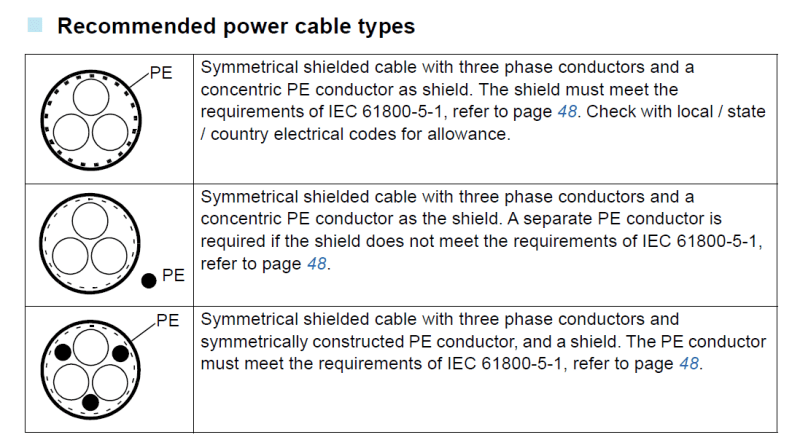 The drive manufacturer lists 16 AWG as typical for nominal drive current and the the motor specs list the full load amps (at 230 VAC) as 1.6 amps. Being the motor assembly will have to be removed occasionally, I'd like to make it as easy as possible to disconnect it from the Control Panel. With this in mind, I'd like to run the power cable from the motor to some sort of connector/receptacle on the outside of the motor assembly, and to terminate the cable coming from the Control Panel with a mating connector/plug.
I was wondering if anyone here can recommend a type of connector/receptacle/plug that would be suitable for this application.
Thanks and best regards,
Paul