How to model "fictitious" air convection using the finite element code ANSYS Mechanical
How to model "fictitious" air convection using the finite element code ANSYS Mechanical
Good afternoon,
I am currently working on a project involving a "box with holes" and cylindrical packages inside. The aim of the study is to study the heat transfer within these cylindrical packages using ANSYS Mechanical (only).
The box is submitted to radiation as well as to convection. The box has holes on its sides which allow thermal convection to develop inside the box and then to heat the cylindrical packages.
The problem is that I do not know how to model the convection phenomenon using a finite element software.
My idea for this time is to model the "air" as a solid material (using solid elements filling the space in the box) with a fictitious
equivalent conduction
value taking into account the convection phenomenon (And maybe Radiation phenomenon).
In addition, I would like then to add the radiation effect inside the box, (using the cavities radiation tool of ANSYS Mechanical) but... As you can guess, that's impossible to use if I fill the whole space with a "Solid Air" material. (This second point is less important).
Do you guys have already dealt with such a question ? Should you have any idea about how to deal with that, I would be glad to receive your proposition.
I enclosed to this message an illustration in order to give you an idea of the problem.
I thank you very much by advance for the help.
Guillaume T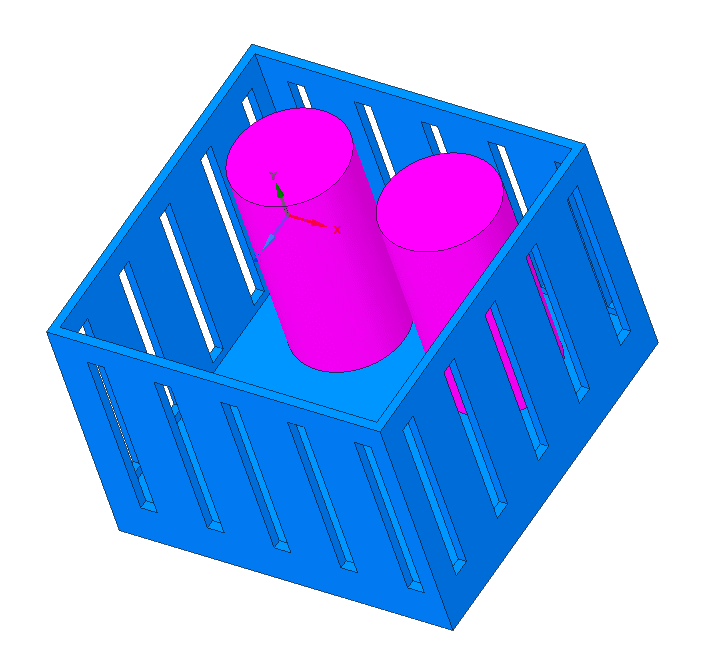 Pink - Packages (They are more than two in the reality - The box is totally filled)
Blue - The box (Their is a lid on the box which cover the packages - I removed it for visibility)