What is the worst chloride attack on concrete you have seen?
What is the worst chloride attack on concrete you have seen?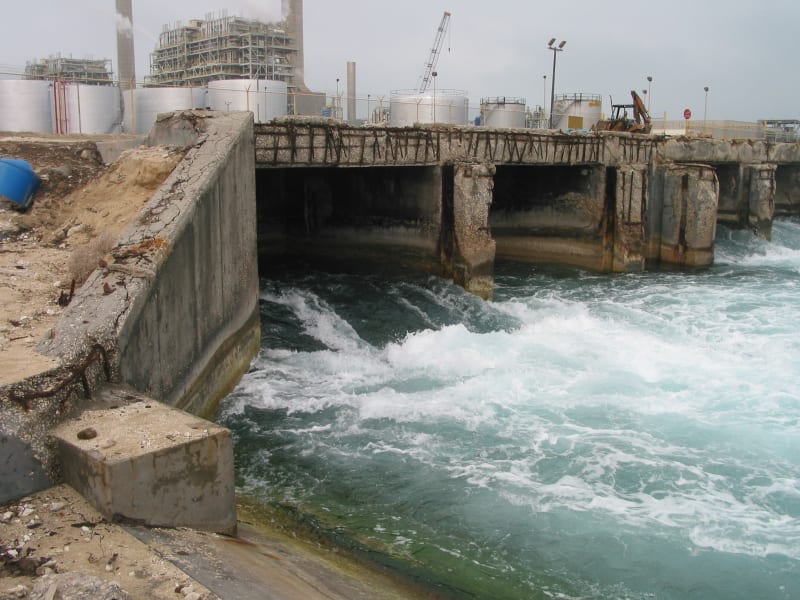 Here is the worst case of chloride attack to concrete I have come across in my professional life. I was not involved in its investigation but was surprised by structure's condition. The information may be useful to others.
The location is Middle East. The concrete structure is a box culvert system at the interface with an open channel. The chloride source is from the seawater. The culvert had been in service for no more than 23 years (from the year it was commissioned to the year the photos were taken).
The attack led to material loss of both concrete and rebar
My own diagnose
: Due a hydraulic jump a unlimited supply of water droplets was available at this location. The water droplets assisted by the wind was able to travel , hit the stationary structure and absorbed into the concrete surface layer. The culvert was baked hot on under the Middle East sun. Seawater droplets soon vaporized leaving the chloride behind to crystallize. Thus chloride could reach very high concentration and the continuous crystallization was accompanied by micro expansion that gradually removed the top surface of the concrete. Over time concrete including the rebar was like eaten away.
The unlimited supply of seawater droplets in rapid alternate wet and dry cycles ensured an accelerated chloride diffusion into the concrete. Ultimately the chloride reached the rebar and destroyed it by steady corroison.
This explains the structure above the waterline was losing concrete and rebar at an alarming rate. Yet the section below the water line was intact and immune to rapid corrosion because the chloride concentration there could not rise above that of the seawater.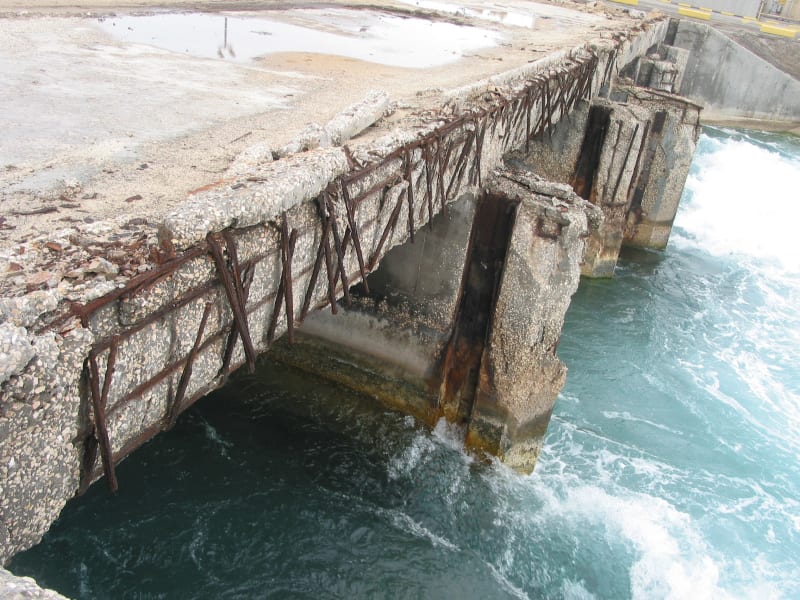 The microscopic removal of the concrete material at the surface can be seen in the photo below (need to save the image and then enlarge) which also shows the opposite side had the top layer completely replaced once before. Again the unlimited supply of seawater droplets was created by the hydraulic jump at low tides.