MATHCAD pirme 3.1 Dropdown list
MATHCAD pirme 3.1 Dropdown list
Hi Guys,
Any one familiar with mathcad prime 3.1?
I am trying to create a drop down list(or list box) which allows me to do things similar to this: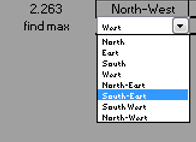 Does prime version mathcad even gives such a function? if it does, can anyone give me a hint of where to start?

Thanks a lot!
[/b]