Roll Coating System Design
Roll Coating System Design
Hi All,
I've been working on a design for an application where a film (LDPE) is to be coated with a acrylic polymer adhesive with a viscosity of roughly 5,000 cps. The initial concept is to coat the LDPE film with a layer of the adhesive between 10-50 microns at a max rate of 5 in/sec.
From what I've found in my initial research is that a roll coating application using a reverse roll coating configuration with a metering roller, application roller, and backing roller would be appropriate. The problem I'm running into is what type of roll to use for the metering roll, application roll, and backing roll.
Here's a picture of the reverse roll coating configuration I'm referring to: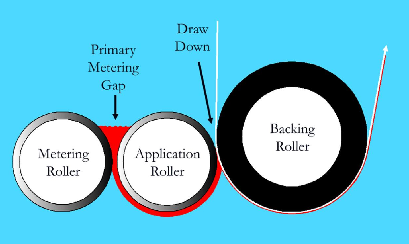 My questions:
Does the reverse roll coating setup seem reasonable for my application?
Any suggestions or resources I could look into to find information on the type of rolls to use?
Where could I look for overall roll coater system design information?
Thanks for the insight.