Plastic threaded parts for potable water PVC / PE
Plastic threaded parts for potable water PVC / PE
Hello,
We produce a water heater in France that heats water up to 40 C
we currently use PVC-UH BSPP threaded pieces to act as dielectric connections.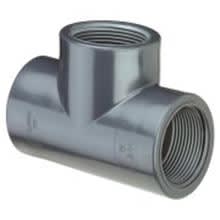 this is an example of the product we use from the French supplier Plasson. There are links to all the technical details:
https://www.plasson.fr/produit/5041-te-a-90-taraud...
the max water temp that flows through these PVC-UH parts is 34 C.
We have not had any issues with them not handling the temperature.
I have been looking at other suppliers, as this supplier is not very reliable (currently have to wait until 14/Jan/2024 for a PCS FFF G1/2" threaded Tee as there is no stock)
I have seen there are options such as:
- Polyethylene pipe (PE)
- Polypropylene pipe (PP)
The parts will not be exposed to any UV.
I would like them to be able to handle higher temperatures the the PVC parts we are currently using. The parts we are using are suitable for water up to 45C.
ideally i would like to be able to handle steam (so over 100C but i do not know what it possible with plastic).
thanks for you help