Total Dynamic Suction Head Calculation for up, over, and down run
Total Dynamic Suction Head Calculation for up, over, and down run
I have an application where the supply tank needs to be mounted on the other side of the room from a machine with pumps in it. I'm having trouble finding information on calculating the TDSH for this pipe configuration.
Material either 1" or 1.5" CPVC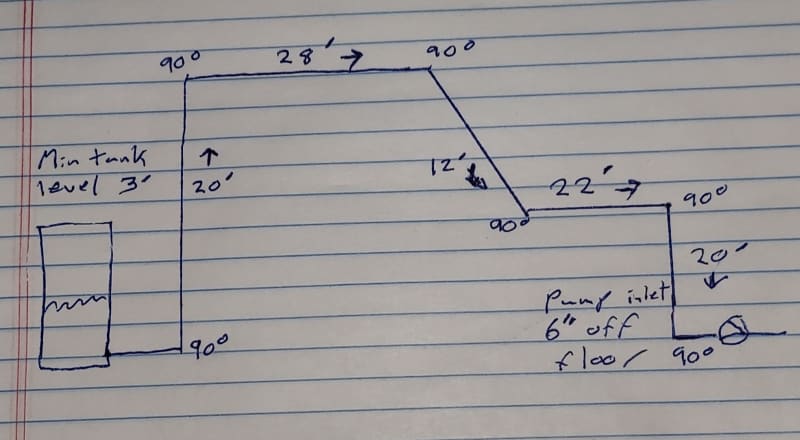 I believe these are the correct parameters for the calculation
Pump Type: Vertical, multistage centrifugal pump with suction and discharge ports on the same level
+ 33.9 Standard Atmospheric Pressure (Water)
- 6.0 Altitude correction @ 5000'
- 0.82 Vapor Pressure @ 70°
- 2.0 Safety Factor (I presume this is the same 2' that's in a pump spec of "NPSHR + 2' "
- ??.? Total Dynamic Suction Lift
Then sum all those to get net positive (hopefully) suction head available.
Then subtract net positive suction head required from the NPSH pump curve. Resulting in net positive suction head.
My suspicion is I'll need to pull the pumps out of the machine and locate them at the tanks, but here's hoping.
If you could show me the math to determine TDSH I'll be able to play around with the numbers myself to see if I can get there by elevating the supply tank up.
Thanks for any help.