SS 321 LWN Nozzle set-on weld on P11 Base Metal Weld Overlayed with 347
SS 321 LWN Nozzle set-on weld on P11 Base Metal Weld Overlayed with 347
Hello guys,
I kindly need your assistance to the below (attached sketch for reference):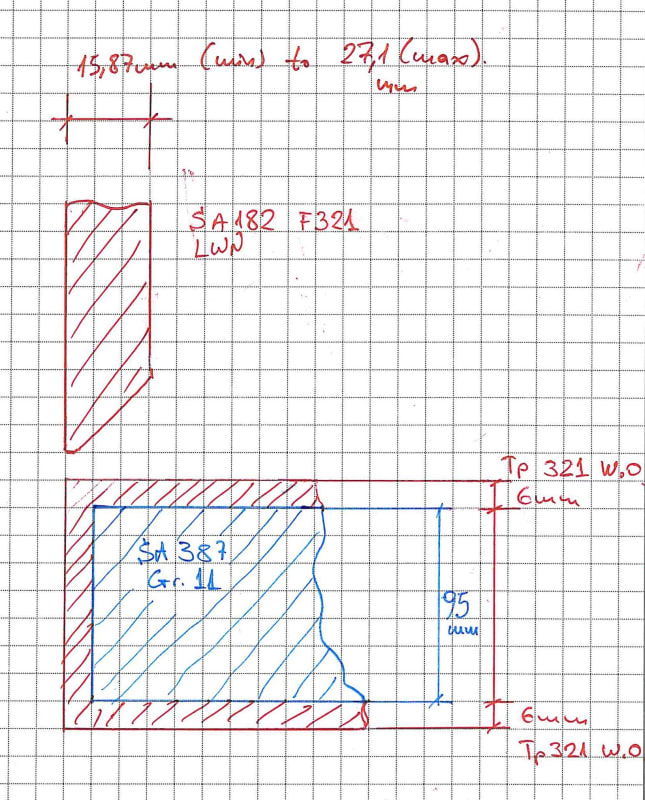 As you see, it is a branch (corner) weld (Set-on type) of a SA182 Gr. F321 Long Welding Neck (LWN) with thickness varying from 15,87mm to 27,1mm, to the Pressure Vessel Shell, which is a SA387 Gr.11 Plate, with thicknsess varying from 73mm to 95mm, WITH WELD OVERLAY (W.O.) 347 (on all sides) with overlay thickness 6mm.
The weld is a 321 to 347 W.O., with ER347 and E347 consumables.
The P11 plate with the Weld Overlay, will have been heat treated as per UCS-56, before the branch weld. So, no PWHT due to P11 on the corner weld.
The Weld Thickness is obviously the thickness of the LWN, plus any reinforcements / fillet weld throats.
But my issue is what is the Base Metals thicknesses, in order to correctly support with PQR(s) the WPS.
The one weld member, is again the LWN thickness.
For the other weld member, should one consider:
- Only the 6mm of the 347 W.O.?
- The composite thickness of the Base plate plus the weld overlay of the weld side (95+6=101mm)?
- Or the composite thickness of the Base plate plus both weld overlay thickness (95+6+6=107mm)?
Fabrication according to ASME BPVC Section VIII Div.1, Ed.2021, welding as per ASME BPVC Section IX, Ed.2021.
Thank you in advance for your responses!
Only best result in absolutely necessary time