Through Bolt Connection and Local Failure of Chimney?
Through Bolt Connection and Local Failure of Chimney?
Hi there,
I am working on a project where a client has attached a steel rod onto their chimney using mechanical anchors that are only embedded 1.5" and they wanted to check if this was adequate.
If the CMU block is hollow, the existing mechanical anchors used would be inadequate as HILTI seem to only allow chemical anchors for hollow masonry.
Although the chemical anchors pass my stress analysis in HILTI PROFIS, PROFIS does not verify if the chimney masonry will breakout, which I believe would govern. I have concerns about a local failure of the chimney itself. I'm conservatively assuming that the two existing connections impart a tension and compression load of 1.7kN respectively.
The chimney is made of 8" CMU block. The client says he is not sure if the chimney block was filled with concrete or if it was left hollow. The architectural drawings show that it was supposed to be filled. I would like to check both cases.
The chimney is not reinforced with steel, so I don't expect the moment from the rod to transfer to the chimney foundation. It seems more realistic to me that if it does fail, there would be a local failure at the top (most likely in the skinny neck portion).
Chimney Dimensions :
Front Elevation :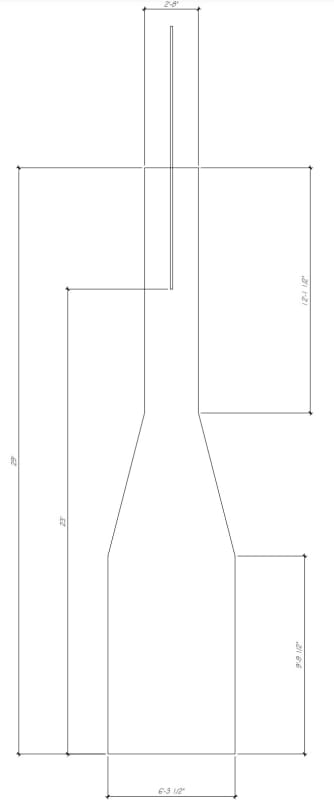 Side Elevation :

Image is a bit blurry but height of rod is 13'.
To spread the pull out stress across the entire width of the chimney, I was thinking of creating a through bolt connection, where the bolt would go through the flue.
This is leading to a few questions:
1. I can't find much reference or guidance material on through bolt connections for an application like this. Does anyone have any typical detailing best practice or guidance that they can share? Conceptually, I was thinking of this connection :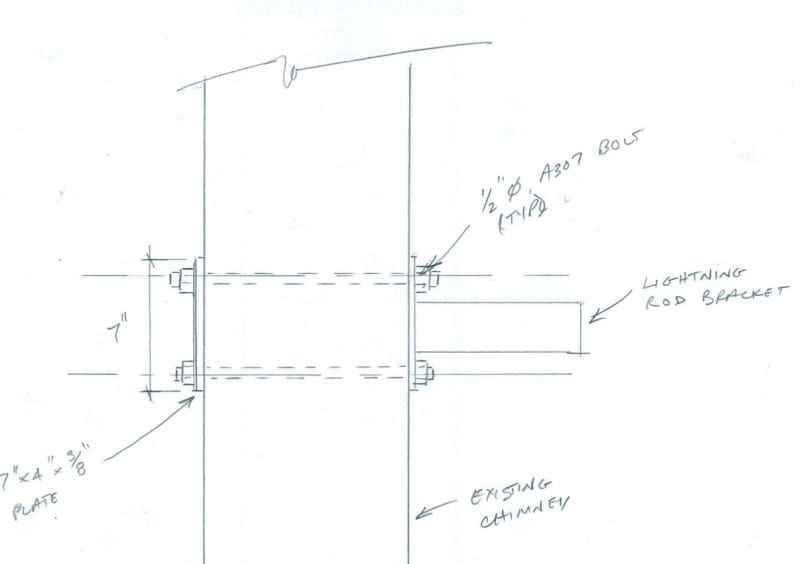 2. Is there a better way to reduce the stress on the chimney?
3. I can't find much reference or guidance material on checking CMU chimneys for local failure from point loads (from anchors). How should I go about doing this? Is there any guidance material or worked examples for situations like this for both hollow CMU and filled?
Any help/guidance/advice would be greatly appreciated.