Converting moment into couple for two connections?
Converting moment into couple for two connections?
Hi there,
I need to check an existing connection and I want to make sure I'm going about this in the correct way.
To provide some background there is a metal pole that is connected to a hollow masonry CMU block wall with some mechanical anchors. I would like to check if this existing connection is adequate for the pull out loads.
I've drawn a sketch of the system below: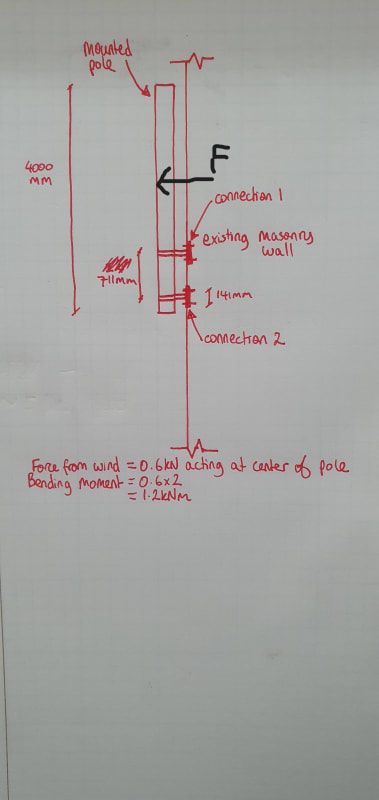 I guess my main question is to understand the structural system. It seems logical to me that if a bending moment is applied to the base of the pole from a wind force, connection 1 would be fully in tension and connection 2 in compression. Therefore, can I just convert the moment of 1.2kNm into a couple :
1.2/.711 = 1.7kN tension and 1.7kN compression.
As in both bolts in connection 1 will take the 1.7kN (0.85kN each) tension and both bolts in connection 2 will take 1.7kN compression?
Any advice would be appreciated if I am going about this analysis in the wrong way or if there is a better way to do it I would be happy to learn.
Thanks