Benefits of oil-filled electric radiators? And which portable heater type is most efficient really?
Benefits of oil-filled electric radiators? And which portable heater type is most efficient really?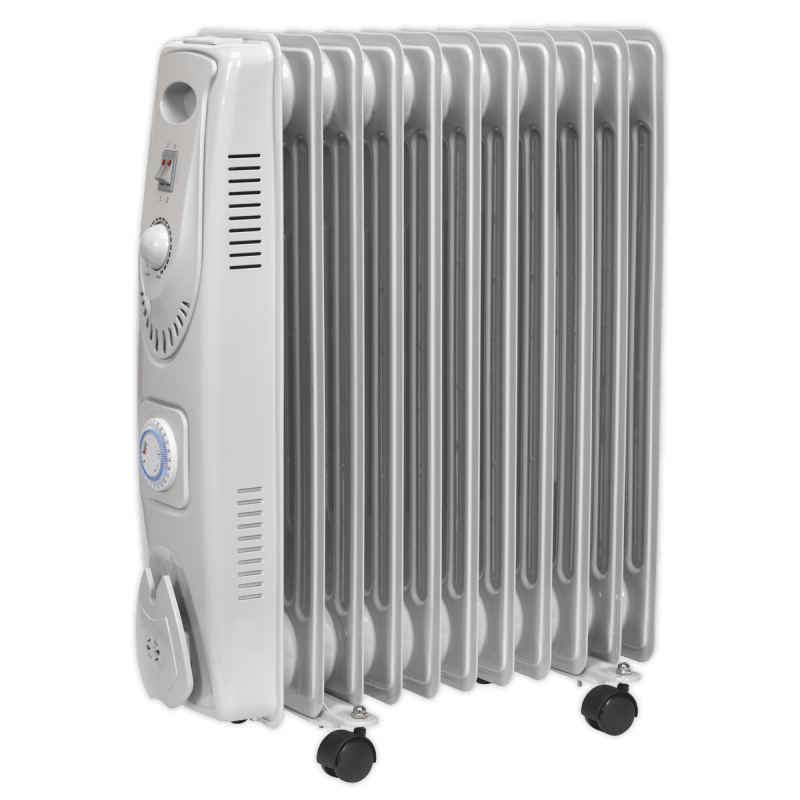 I've looked at and operated oil-filled electric radiator-style heaters (image shows an example) and I'm wondering what the benefits are for manufacturers to go to the trouble and expense of increasing their thermal inertia by filling them with mineral oil instead of heating the fins directly. Surely if they consume 1kWh from the plug, they're going to put 1kWh of heat into the room, same as any other type of electric heater?
A second follow-up question - which is the most efficient heater type in real life? I'm not talking energy efficiency (we all know all electric heaters are 100% efficient at turning electricity to heat; I'm ignoring heat pumps). What I mean is, which kind of heater will make an occupant in a room feel "comfortable" with the least amount of energy expenditure? Or, in terms of an experiment, if you put someone in a room with a heater and give him access to the switch/thermostat, and measure how much energy he consumes over an 8-hour day to keep it cosy (while controlling the external environment for consistency), which heater type would come out on top?
Anecdotally, I was quite impressed with halogen. A mere 400 watt tube caused a lot of very obvious heating, and they handle draughts well (like an open-plan office). I found fan heaters good at heating up the air in the room, but the power consumption is significant (2000W), they're noisy, and the temperature and noise fluctuations from the cycling of the thermostat are annoying. I have no experience of quartz, ceramic, mica, passive convection, panel heaters or any other kind.
Currently using an oil-filled radiator and it seems to be a good compromise. Heats up without the noise of fans nor the glare of halogen. I also have a heat-pump split-type wall-mounted inverter air conditioner in the room. Quick comparison test showed that for a 1°C temperature rise in the same room, the AC only consumed 0.8kWh while the oil-filled radiator consumed 1.2kWh (so a 70% savings going with the AC) - but it's not a fair comparison because the AC cost €700 and these heaters are only €20-€70. And the rooms I'm looking to heat won't have the possibility of installing AC units.