Conditional Formating - 2 conditions
Conditional Formating - 2 conditions
I am trying to find some help on setting up a conditional formating that has 2 conditions that are true. The problem I am having is that I need certain cells to highlight per month (equal or greater than) and the other condition is the selection value that ultimately determines the color.
Example Spreadsheet:
https://docs.google.com/spreadsheets/d/1S52tJ0rfu3...
Per this Formula, it highlights the entire row, not just the cells equal to or greater than the current month.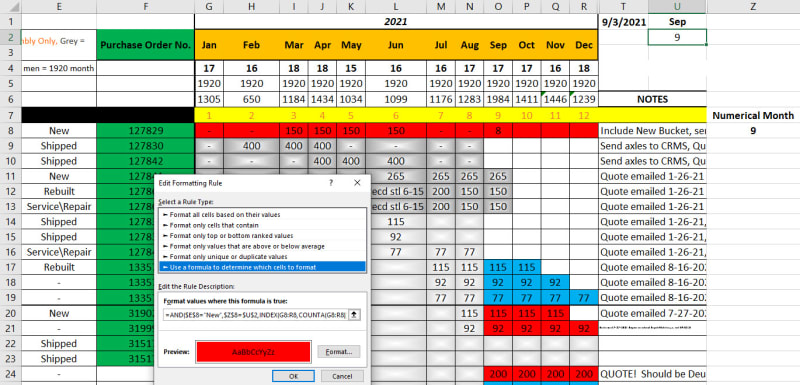 Is there any way to make this work or is there a different way I need to look at this? If VBA would allow this to work I am fine doing it like that as well, not sure how to write the code though.
Scott Baugh, CSWP


CAD Systems Manager
Dapco, INC
www.dapcoinc.com

Quote:

"If it's not broke, Don't fix it!"
FAQ731-376: Eng-Tips.com Forum Policies