ADAMS View - Very high torque/force values at non collision contacts
ADAMS View - Very high torque/force values at non collision contacts
I have a model in which I have to measure the torque required by a body having multiple links to grasp a pole and climb. I defined Solid to Solid contact between the pole & links and ran the simulation by giving desired angle input at the motor. When I measured the motor torque & force at these contacts, I could see that the plot spiked to unrealistically high values. Upon close inspection, we found out that the spikes occurred the moment the links came in contact with the pole. Seems like this could be due to the rigid contact between them or since Adams recognizes the contact as collision.

I have attached the screenshot of the torque values we obtained. The peak here touches almost 125 Nm whereas it shouldn't exceed 25 Nm as per our hand calculations. The Adams value is very high despite the fact that we had reduced the stiffness to very low values. As the stiffness goes up to normal values the torque increases to 500+ Nm. I have attached a screenshot of the contact settings I have input.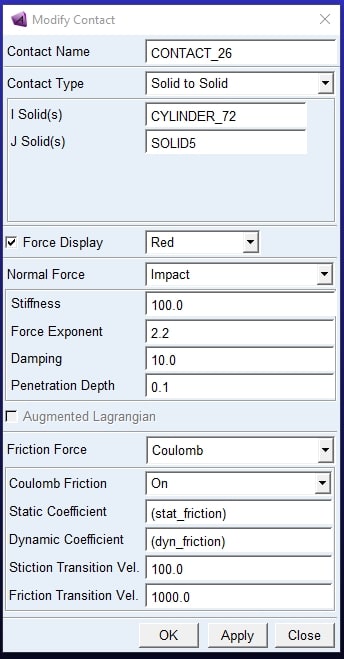 I need to measure realistic forces & torques at these contacts. How do I do this ? Am I doing something wrong ?
Thanks in Advance !!