Bystar Retrofit With Fiber Laser Source
Bystar Retrofit With Fiber Laser Source
Efficiency Is Valuable Asset
The CO2 laser has dominated industry in the past. However, this trend could not prevail because fiber laser technology has been on the advance for many years. Your existing machinery is usually still in good condition, but has deficits in its core technology. This is where we start and replace the laser source and the laser head as well as other components and can then use the many advantages of fiber laser technology in the existing system.
Advantages
No Change in local conditions
No Change control system
Significantly less maintenance
No Need laser gas (He, CO2, N2)
Electricity cost reduction by around 50%
Faster cuts in the thinner area up to 400%
Maintenance times are reduced
Keep cutting process parameteres
Cutting reflective metals, copper, brass
Maintenance costs saved on average around 40,000 euros per year
On site implementation, within 3 days
Efficiency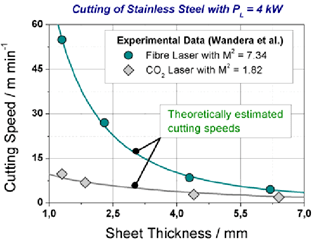 Retrofit Solution
We will install the new fiber laser source, fiber laser cutting head, cooling machine, drag chain, interface controller system and other devices on the original Bystronic carbon laser cutting machine. This solution will retain the advantages of the Bystronic machine, such as excellent dynamic performance, high precision, easy operation, convenient maintenance and so on. We will solve the high maintenance charge of original carbon laser source issues with our technology.
Technical Features
Laser Source: Cable laser diodes with low energy consumption
Active Medium: Doped Ytterbium ions
Active Fiber: Double coated Fiber cable with Fiber Bragg Grating ( FBG)
Wave Length: 1.0nm
Speed: Higher Speed in thin sheets cutting
Energy Efficiency: >35%
Optical Path: The Laser Beam is delivered through Cable. No mirrors
Low Operating Costs.
Low cost maintenance in the Long run
Optimum absorption of the beam
Seamless cutting of Non-ferrous metals and alloys
Simplified structure
Environmental conditions do not affect the workflow ( Dust, Vibration, Dust)
Extended working hours of laser diodes: 100000
Extra space and an option for laser power upgrade.