GD&T Circularity Problem
GD&T Circularity Problem
Hi all,
i have 1 inquiries regarding circularity tolerance.
Let me provide an example
i have a ring part (PP Material) with diameter of 10+/-1mm
which mean the range of diameter is 9mm to 11mm.
this part undergoes additional process (involving heat),
and this part will be deform (not expand), and be sort of oval shape,
if i control the circularity after process by 0.5mm,
regardless after process diameter,
from my understanding, 0.5 in form tolerance representing the control range,
by right, if after process it will deform by 0.5mm (justify with circularity), regardless final diameter, it would be max 12mm diameter,
but i have another thought,the maximum diameter would be only 11.5, as the range 0.5 upper limit would be only 0.25
because for a ring shape, there should have a compression on other side, to allow for expansion on another side.
i assume 0.25max compression to allow for max expansion 0.25mm.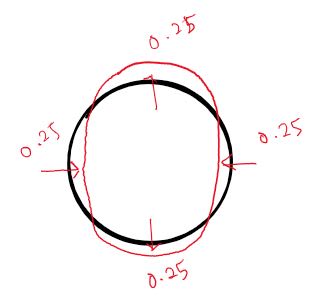 is there any rule in any standard explain about this case & situation?
Thank you in advance.