Property line eccentric strip footing
Property line eccentric strip footing
Hi,
I have allways wondered if eccentric footings create moments in foudation walls. Unfortunately, my bosses would only make me feel like I make to much off nothing and answer vaguely, no mather how many times I would say '' BUT THAT MOMENT HAS TO GO SOMEWHERE!?''. So I have allways secured myself by adding rebars...
Here is a particular case where I am adding load to the building and demolishing the old foundation wall. The contractor wants to keep the old foundation wall head to make the underpinning easier, and drilling the old wall head from under doesn't seem like a good idea.
You will see below that I have chosen a rectangular reaction because this is residential purpose with prabably underestimated soil capacity. I think no rocket engeneering is needed here. I have also considered a
possible
soil and foundation push from behind with the face rebar that goes from top to bottom.
Simple P/A + Mc/I indicates to me that the load is not high enough to compensate the moment and that traction ''could'' be possible where the old wall sits. Really ?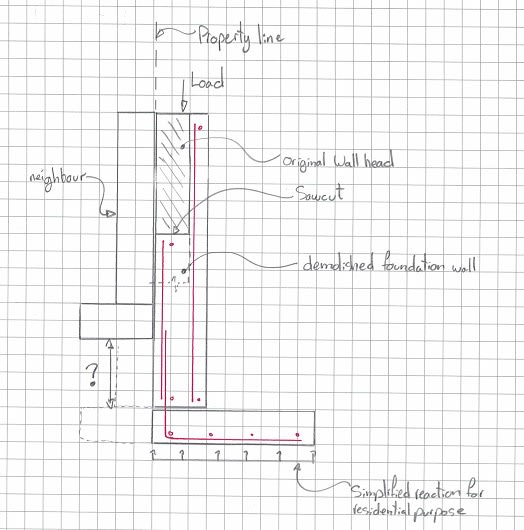 Thank you very much!