Installing Exterior Door into Wall of Domestic Building
Installing Exterior Door into Wall of Domestic Building
As part of a structural architecture/engineering project, I am searching for official documentation that covers legislation/regulations/guidance on the installation of exterior doors in structural walls of properties.
[Disclaimer]: I am not carrying this work out by myself in real life (I would have a professional contractor do it otherwise) - this is just a written report that demonstrates knowledge and compiles findings on the subject for helping me develop a design solution.
Scenario: The house in question is of cavity wall construction using concrete breeze blocks. I want to install a side door for the garage (which is of course at ground level) to avoid having to use the main garage door. There is a beam running the width of the garage as shown in the attached image.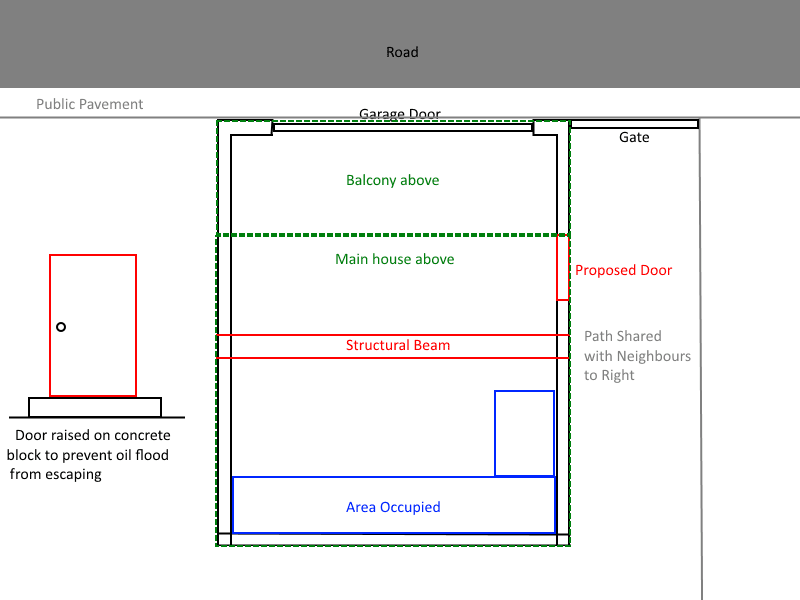 I know from common sense that the placement of the door relative to the beam is critical as the load bearing above is high. From memory, someone told me that placing the door offset from the structural beam is the best option.
However, I am unable to find any official guidance that makes this clear. As a student, I am required to back up any claims with reputable external sources.
In addition, I need this question to be answered: I was once told that a garage door had to be mounted at a certain height to stop oil leaks (i.e. from a car) exiting the garage and causing a). environmental damage or b). (if an interior door) damage inside the main house. However, does this only apply to interior garage doors (i.e. ones that lead into a room of the main house), or is it also compulsory for an exterior door (one that leads outside)??
If someone could point me in the right direction, that would be very helpful.
Kind Regards.