Pivot Table Help for Parent/Child Relationships
Pivot Table Help for Parent/Child Relationships
It's been quite awhile since I've used Pivot tables in Excel. I'm wondering how I can accomplish this task:
I've been given a raw set of data with columns across the top titled Assembly, Assm Revision, Parts, customer, etc....
I am pulling all part numbers as part of an assembly and inserting columns under each one. However, that leaves my assembly column with a lot of multiples and I'd like to roll that up so I only see 1 assembly and then the parts are hidden under it. I've tried to show what I want to see when I'm done. Please let me know if there's a go-to video on youtube to accomplish this.
I essentially want the ability to roll up that first column so that it doesn't show all the parts that are in it, but expand it if I want to see them all.
Thanks in advance!
How the data is given to me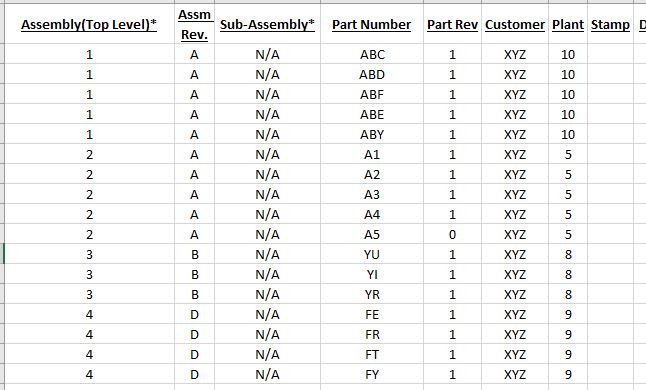 I want the ability to collapse the assembly column