Old Bowstring Wood Truss Bottom Chord Split. Worried.
Old Bowstring Wood Truss Bottom Chord Split. Worried.
I've got this 50 to 60 year old warehouse with these existing bowstring trusses. California, light wind, no snow.

The owner is putting up a structure interior to this existing one, I am doing calculations for the interior structure only.
However, the architect just sent me this picture.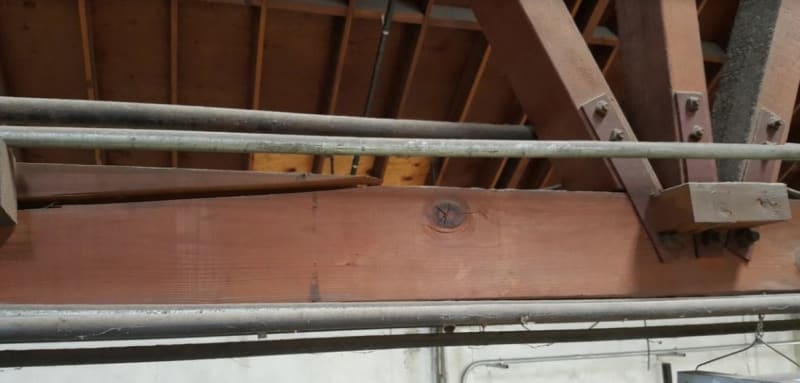 The architect is wanting to pay me to come up with reinforcing. I did some quick calculations, and figuring 20 PSF DL + 12 PSF LL, the ASD force on that bottom chord is approx #70,000, putting about 1800 PSI on the bottom chord.
I can reinforce that easy enough, but I'm worried the bottom chord itself isn't sufficient (I mean duh, it broke).
If it broke it'd be a catastrophic failure, and I'm guessing all of the other truss bottom chords are not too far away from looking like this.
I don't want to take responsibility for the existing structure. I also don't want the building to collapse from people trying to fix this. I don't want any body getting themselves killed either.
What are my options?
A. Locally reinforce around split and write disclaimer that I'm not responsibility for remainder of truss or any other exisitng trusses or existing building? Will that disclaimer just make for a good laugh in a court of law?
B. Reinforce every truss bottom chord across full length. Write disclaimer that I'm not responsible for trusses or (e) building.
C. Tell architect the entire building is not fit for occupation until after full scale structural analysis on existing buliding is performed and reinforced as needed?
What's my responsibility? Do I notify the city of this and ask that it be red-tagged? Am I over-reacting?