Hydraulic Circuit Fluid Temperature
Hydraulic Circuit Fluid Temperature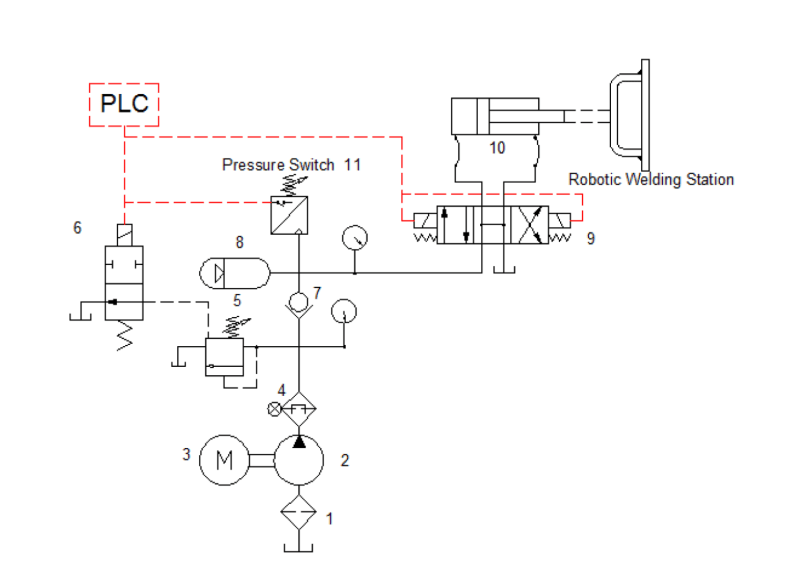 My manager has shown me this circuit its for a welding station for my revision. Its a circuit hes ran for many years thats never had problems but all of a sudden the oil tank is very hot on inspection and the system seems to be losing its ability to work. Hes asked me why and what improvements can be done? I have never done hydraulics before so just learning. Many of the findings in theory state its due to filters clogging over time or leak but the oil level in the tank is fine and theres no contamination so that makes me believe that the filters are not clogged and theres no leakage.
The cylinder (item 10 )operated and holds the pressure to 100 bar for 15 mins and the relief valve is set to 130 bar. Pressure switch (item 11) is set at 100 bar. when pressure is required the PLC energises item 6 and when pressure has reached 100 bar the PLC signals item 6 to unload the pump.
I am assuming that the increase of temperature is a result of an increase in pressure due to heat not being able to dissipate in the system. Is it possibly because the switch has failed to indicate the pressure has increased from 100bar and as such the PLC has not activated the 2 position directional control valve (item 6) to unload the system and due to the oil not being able to flow anywhere as a result of the non return valve (item 7) the system is just wasting oil.
The pump is a fixed displacement gear pump that is displacing at 2.5lt/min.
Item 1 is a strainer and item 4 is a pressure filter with by-pas which opens at 1 bar. Item 8 is a accumulator. Item 5 is a 2 stage pressure relieve valve.
Any thoughts on what could of caused this heat increase?