Help identifying a strange transient upon closing of a breaker
Help identifying a strange transient upon closing of a breaker
Hi guys!
I've looked around a bit to find a good forum to post this question, and after reading through a few other threads here I think I may have found the right one!
I was analyzing a disturbance we had in our distribution grid (20 kV) and while examining the TFR:s I found a strange transient in one of our feeders when reenergizing it after having removed the faulty cable. We have a couple of customer owned stations on this specific feeder and I can't really say what kind of setup they are running, except that they are customers on the medium voltage level and may have medium voltage loads other than transformers.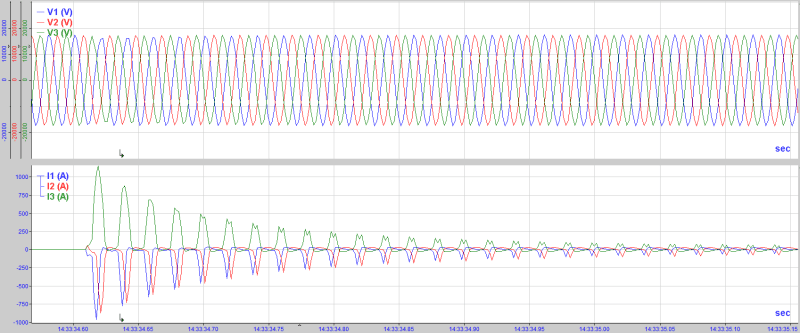 In the image one can see that the current transient on phase 3 seems to be half wave rectified, inductive and of fundamental frequency. It is, in fact, the inverse of the sum of the currents in phase 1 and 2, which is quite easy to see as the transient is dampened. The transient eventually dies out, but the load current on this specific feeder is quite dirty with harmonics and I will have to investigate it in more detail eventually. For now, though, I'm just really curious on what kind of load that may be causing this kind of transient. Any ideas?
Best regards,
Henrik