Injection Molding Machine Hang-up
Injection Molding Machine Hang-up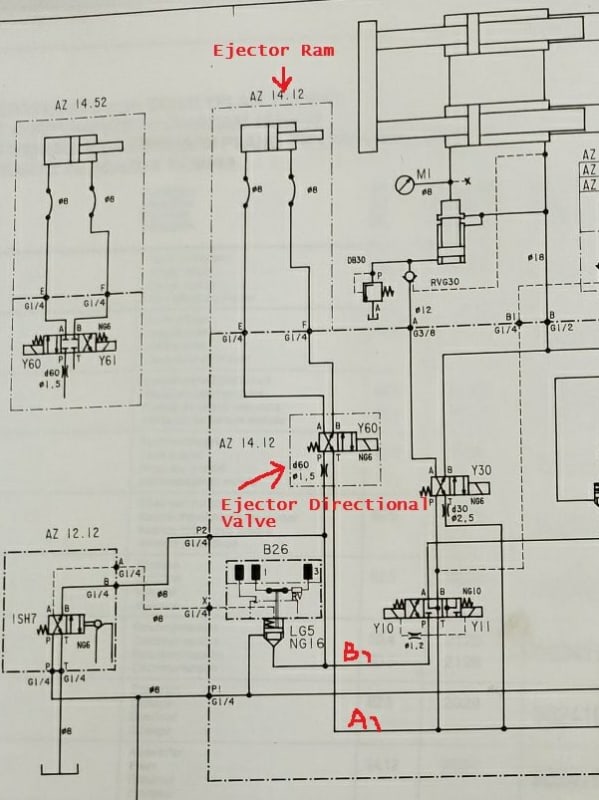 I was called over to look at a Boy 25Ton injection machine whose part ejector...wasn't. Being an EE i'm not a wiz at hydraulic schematics. Everytime I think I understand one - I don't, but I digress.
The entire hydraulic infested machine works great for the entire shot cycle, mold clamping, screw feed, inject, mold open, etc. The very last action is the ejection of the part done with a small ram, probably about 2 inches dia. The electronics command Y60 to shift and extend the ram ejecting the molded part out but then instead of the ejector ram actually retracting fully it just sort of lackadaisically rebounds about half way.
I assumed the return side coil was not working but when I got there I discovered the directional valve only had one coil and was spring returned. This means the electrical side was OKAY because the eject direction operated normally.
I figured the return spring was broken and to prove it pulled the cap off that end of the valve and there.. was a pristine fully intact spring that had nice action. I pulled the little spool out and it looked fine with nothing wrapped around it or nicks or such.
What do you think would cause the ejector ram to not power back to the stop?
I can't even find the big hydraulic pump on the schematic! The oil reservoir appeared full being only about 3/4" below the filler cap. The tank is probably 35 gallons.
I'm thinking there is something else in the circuitry that's causing this but since I can't figure out if A or B is the pressure side I can't make it out.
I've included the entire schematic for your perusal.
Keith Cress
kcress - http://www.flaminsystems.com