Torque/Preload Calculation for tension vs shear joint Questions
Torque/Preload Calculation for tension vs shear joint Questions
I am calculating the required installation torque/pre-load for a series of fasteners. I am using the basic formula of:
T=KFd
where K is the nut factor, F is the bolt preload, and d is the bolt nominal diameter.
Using the Machinery's Handbook 30th edition as a reference I calculate the preload as .75% of the proof load which I take as 85% of yield of the bolt.
I've used my values to compare against AC 43.13-1B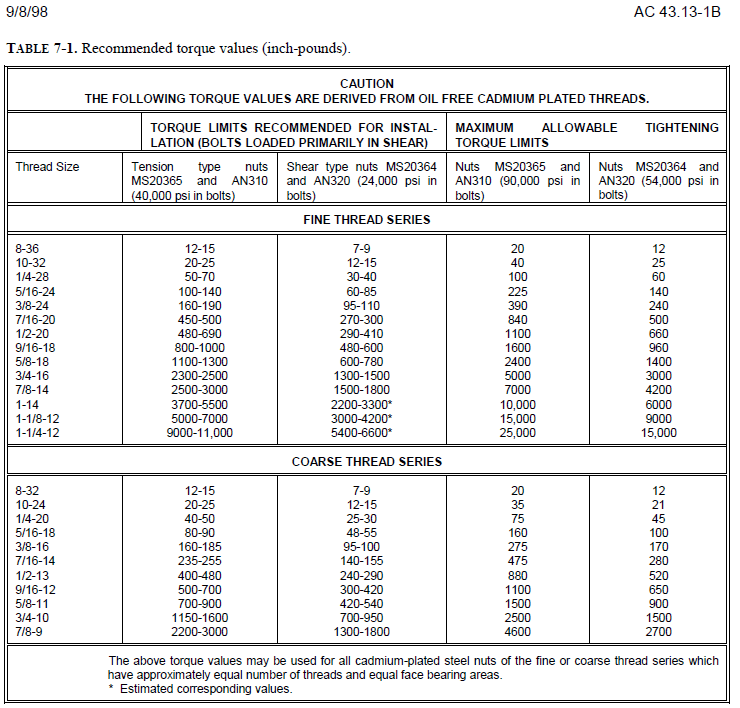 I understand that ideally experimentation should be done to find the appropriate preload and that I've made quite a number of assumptions, but that aside I have some questions.
My values are in the upper half or slightly higher than recommended installation torque values for tension type nuts. Looking at my hardware I only use tension type bolts and nuts. However some of my joints are definitely more shear joints than tension. I noticed that the fasteners with shear type nuts have considerably lower torque. I am not sure if I am misunderstanding correctly but if I use tension type nuts with the higher torque values on my shear type connections, is my pre-load too high? I am concerned I am over-loading a shear bolt connection.
Some other related questions I have:
-Are the torque values given in AC 43.13-1B independent of the actual type of loading (dependent solely on the hardware used)? this is what I thought but am having second guesses.
-For my calculations I use yield values I find in the bolt/screw milspec or do a very rough estimate of yield based off ultimate strength (about 85%) but for shear type connections, should I be using shear allowable to calculate torque (seems out of the ball park because torque related to tension not shear). I got this idea from NASA_MSFC-STD-486-B_standard_threaded_fastener_torques.

-My concern is that my estimated torque is too high for my shear connections. I was wondering, is there was a clever, acceptable way to factor down my calculated torque? Again from looking at NASA_MSFC-STD-486-B_standard_threaded_fastener_torques, I read that the torque for shear applications should not exceed 60% of the torque for a tensile application

Any advice would be great. Reading some other threads on this forum has clarified some things but also made me question my approach. If you have any advice that would be great. I know this is a bit of a can of worms but any insight would be much appreciated.
Thanks!