Stepped pile design
Stepped pile design
Contractor is having a difficult time sourcing an 8ft diameter casing for the desired length (>40ft). They are capable of sourcing a 7ft diameter casing quite easily, though. Anchor bolt template requires an 8ft diameter (min.) to accept the template with adequate cover. So the "new idea" is to use a stepped pile: 8ft diameter to accept the anchor bolts and then constrict it to 7ft diameter down to the bearing surface.
I'm analyzing the lateral pressure, settlement, and capacity using Allpile. I am looking for some insight in the behaviour of the pile at the step location. See the attached sketch.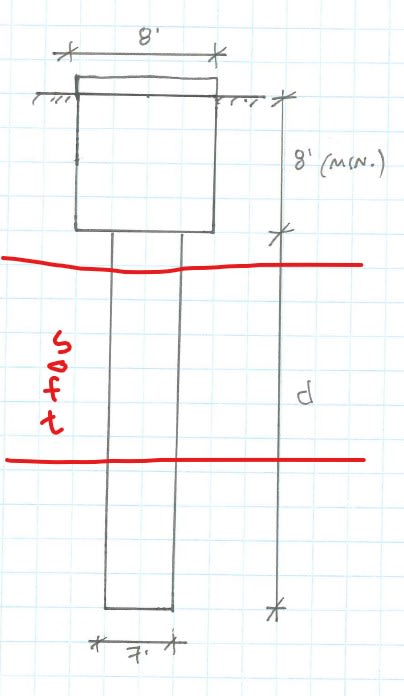 Questions that arise for me:
1. What is the appropriate way to detail the step joint? I need to develop the rebar in the 7ft section by extending them into the 8ft section. Ideally I would just run them straight up to the top but I don't have the space with the anchor bolt template diameter (unless I provide greater than standard cover to run the bars on the inside.
2. If there is a large zone from 12ft to 35ft depth that is soft soil (saturated loose to compact sand, susceptible to liquefaction), wouldn't the step joint be even more susceptible to movement and instability?
The foundation is for a telecom tower: low axial, high bending. Everyone is "aware" of the soil implications on site. Groundwater is at the surface. They have decided that a large pile cap with multiple piles is really not feasible.
I'd rather run a single pile to whatever depth than a stepped pile and I'd rather have a new site rather than this one, but I'm at least trying to work with what's there. Maybe just run the pile all the way to middle earth???
Also, is there a way to model the liquefaction scenario in Allpile? I've tried 0kPa skin friction in the zone and also the distributed load feature but, frankly, they don't seem to make a super noticeable difference.
EDIT: I'm looking into getting the ground motion parameters as per the building code foundation requirements for sensitive site soils.