FEA Analysis of a pipe support
FEA Analysis of a pipe support
Hi,
Good to be finally on the forum, used your advice a lot while at university and now I am happy I can join this professional environment.
I am writing in relation to a closed thread:
thread727-431518: FEM Analysis of Pipe Support
I am looking at the exact same scenario.
I have a client looking to verify catalogue support loads.
We can get into a long discussion on how this is unnecessary, and that the loads are in the catalogue etc, however I have been there, and the client is not giving up on it.
I have maximum allowable loads provided by the vendor, so I know what I'm aiming at.
I have set up a model in Ansys, but I cannot achieve that allowable, and they are not even remotely close.
I have verified my analysis conditions on a simple model, I am thinking it is constrained/loaded incorrectly as the values are so far out.
I have explored analysis without pipe modelled, however this deformed the straps unrealistically.
As the client deals with several pipe materials apart from steel (CuNi, GRE, HDPE) I have to take this into account.
I have modelled the support with pipe, and noticed that the pipe stiffness has big impact on the stress levels.
Also I found a screenshot of an Ansys fea model in one of the pipe suppliers catalogues, where the pipe is in the clamp: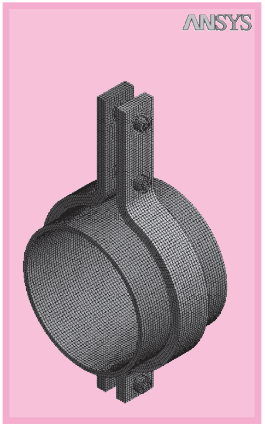 I understand this is not much of an indication, but I am garbing anything I can.
I have fixed the bottom surface of the clamp, added frictional contacts between pipe and clamp and applied a remote force on the inside surface of the pipe through the centre.
Please see attached for detail: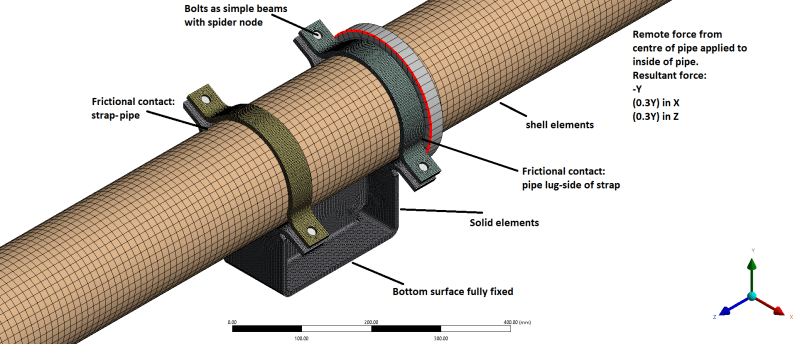 So generally my question is: does anyone have any experience with pipe supports and the conditions on how to load them?
The way I am looking at it now sounds reasonable, however the results are blown out of the water, (around 10-15% of the catalogue values)
Any advice?