Phase angle controlled heating results in extreme electric bills
Phase angle controlled heating results in extreme electric bills
About ten years ago, customers all over Sweden (and probably also in many other countries) noticed that their electric bills jumped sky-high after "intelligent meters" had been installed.
I did tests with three different brands of meters plus an old analog watt-meter (Norma class .5) and also by recording voltages and currents in an Excel sheet. Leaving out most of the details, a snippet of the results is shown below.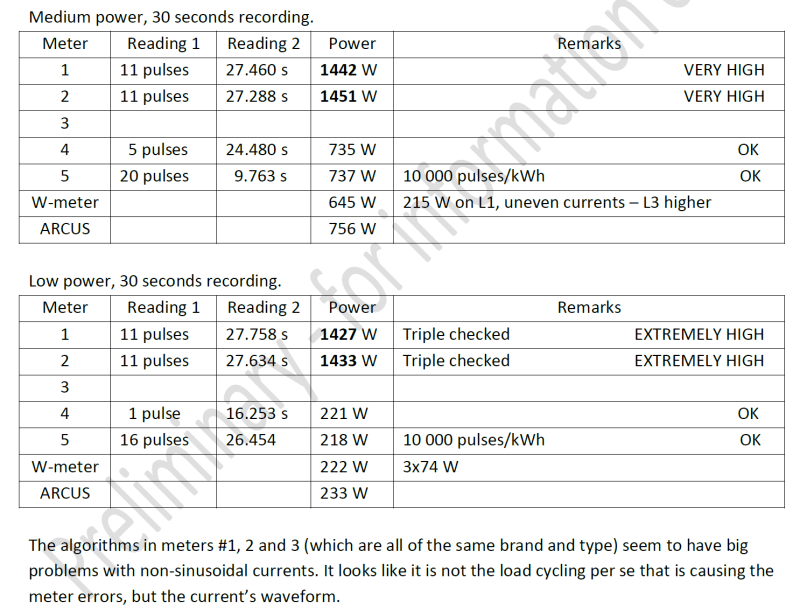 This investigation resulted in customers getting a compensation and meters were changed to other makes.
But he percentage that actually protested was low (most installations didn't use phase-controlled "dimming" of their power loads) and the whole thing was silenced down by the authorities.
The meter make was quite common and probably used all over the world.
Question: Have you experienced a similar problem with meters that do not "understand" how power is measured (my suspicion is that they just used voltage and current and multiplied by cos(phi) instead of summing instantaneous energy packets).
If you have experienced the same thing: How was it handled by utilities and law?
Gunnar Englund
www.gke.org
--------------------------------------
Half full - Half empty? I don't mind. It's what in it that counts.