SMath Studio v0.99
SMath Studio v0.99
Hi all.
I'm learning SMath on the PC and I'm having trouble deleting an empty placeholder in a formula. I read that I should just be able to empty the contents of the placeholder and then shift-arrow over the blank placeholder and then back space, or double backspace, to delete it. I've tried several combinations of those actions to no avail. I am left with a placeholder that prevents the formula from completing. I will just write the whole thing over but I'm thinking there is a direct way to make the change.
Reference the black square near the beginning of the Iyy formula.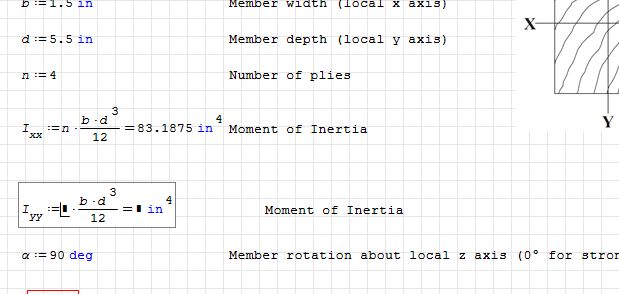 Edit: Also I have decimal places set to 2 for calculations but as you can see Ixx is still reporting to 4 places. I'm not sure why. It looks like all new formulas are reporting to 2 places.
Also also. Sorry for the unhelpful thread title. I hit submit before I checked it.

TIA