Abaqus: Heating of Ti plate using DFLUX subroutine:
Abaqus: Heating of Ti plate using DFLUX subroutine:
Hi Friends, I am a beginner in the Abaqus and trying to understand the impact of different heat source on the metal plate. For the current case, I am using Gaussian distribution heat source to simulate the melting in the Ti plate. So my thermal model uses temperature-dependent specific heat, conductivity, latent heat and density. Also, the sample size of 0.8X0.8X0.4mm with the mesh size of 0.8/200. To give desired surface heat flux I am using DFLUX subroutine.
My units look consistent, I am using the metric standard where my conductivity varies from 4 to 40 W/mK wrt temp, Density 4400Kg/m3, specific heat order of 750 below MP and 950 J/Kg-K after MP. Attributes consider 0 K temperature and metric Boltzmann constant 5.67*10-8.
My model considers 70-watt Gaussian power with an effective diameter of 125micro-meter for 400 microseconds. Therefore I cannot change my maximum time increment beyond 400us. I am using DC3D8: An 8-node linear heat transfer brick.
Now the problem I am facing is the following:
1. The surface of model is exposed to a very high temperature but the temperature is
not conducting to the next layer of nodes
, please check the image. I read some journal where they reported that the depth of melting goes up to 120-200micron. My simulation shows just 2 microns. I have to know where I am doing wrong.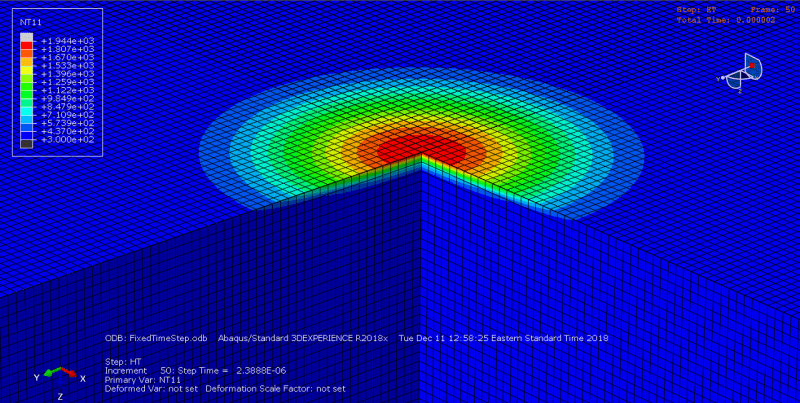 2. Simulation is
not completing
, either it says time step is too big (for fixed time step) or it says Too many attempts made for this increment (Automatic steps). I used other time steps and mesh size it solves but I don't know what I am doing and why I am doing? If you can explain or give some reference from where I can read and learn how to adjust the step size?.