Prototype Fuel Injection - How Much Fuel Can Air Hold?
Prototype Fuel Injection - How Much Fuel Can Air Hold?
Guys,
My prototype engine is 49.5cc but, since it has six cylinders and each completes four full cycles per revolution, each cylinder volume is only 1.7cc. There's only 2.76E-6 kg of air mass in the cylinder and the stoichiometric ratio for diesel is 14.7, so there's only 1.88E-7 kg or 0.0002 cc of fuel required. There's no feasible way to atomize that little fuel... the nozzle orifice and tolerances required by a classic fuel injector design are simply unrealistic.
The obvious solutions are to either build a much larger engine or use a shared intake manifold with a single injector or carburetor. Neither approach is attractive... the larger engine would be costly to build and too big to allow shipment of an engine and test bench to third party evaluators, and the shared intake manifold would require I segregate intake and scavenge air paths which significantly increases complexity.
My current thought is to use a shared manifold to route premixed fuel/air to a simple injector. This is essentially a way to segregate intake and scavenge without adding a lot of complexity. To be feasible, the fuel/air mix must be *very* rich to allow use of a small injector similar to what I had envisioned. I did some research and found the easiest way to make a dense mist with small droplets is using a piezoelectric atomizer, preferably one using a piezo mesh disk as these produce very small droplets.
This $20 mesh disk
produces 8um droplets at 480cc/hr versus my whole-engine peak requirement of 812 cc/hr, so two such devices should do the job. The output of these devices can be electronically controlled (droplet size is determined by the driving signal's frequency and the density by it's amplitude), so there's no need to control the injector at the cylinder; it can just be a simple piston with fixed stroke that draws in the charge then shoots it at high velocity into the cylinder to further aid mixing. Here's a picture showing how dense the spray from these type devices is...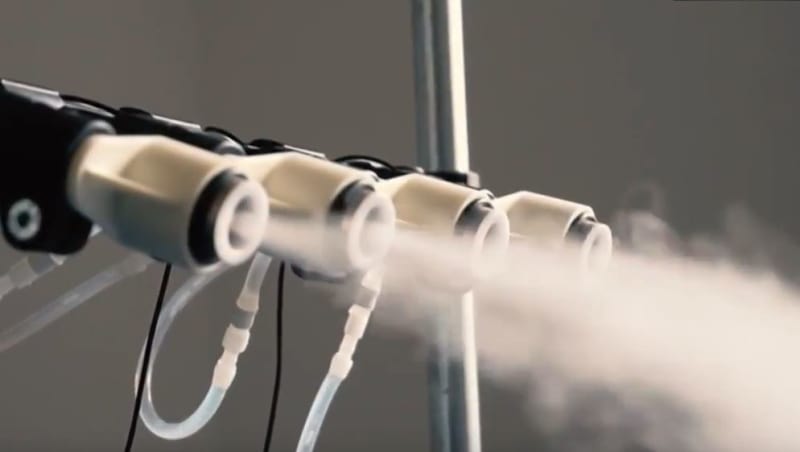 My question is this: Does anyone have any idea how much fuel a given volume of air can hold?
Thanks for your help!
Rod