Curved staircase Design Clarification
Curved staircase Design Clarification
Thulz
(Civil/Environmental)
(OP)
Link - 1
https://www.eng-tips.com/viewthread.cfm?qid=439014
Link - 2
https://www.eng-tips.com/viewthread.cfm?qid=430210
Link - 1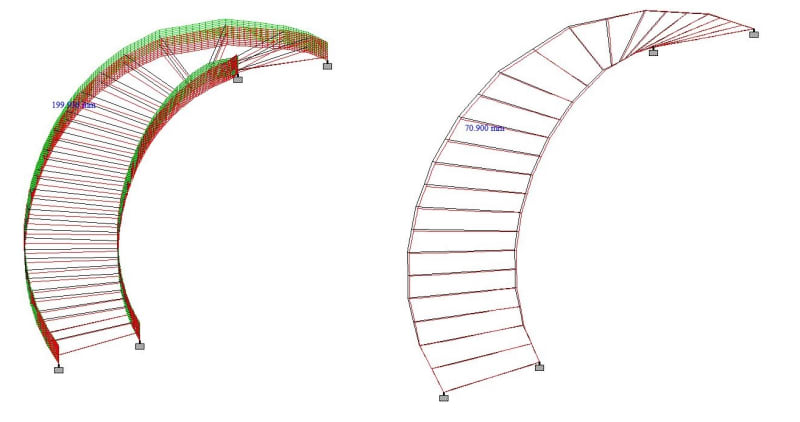 Hi all,
Presently am working in analysis and design of curved steel staircase.
Staircase details :
Outer Curve Span - 11.4m
Inner Curve Span - 6.3m
Height of Stair - 3.3m
Rise - 150mm , Tread - 1.5m width , Varying size (approx 710mm at outer side & 330mm at inner side)
Stringer Beam - Plate of depth 350mm and 16mm thick
Tread Plate - 8mm thick Plate
Tread Plate Supports at both side - Plate 50mm wide and 8mm thick
Handrails load is taken as Nodal load of Fy= - 0.18kN (Separate analysis done)
Loading :
Live Load - 4 kN/m
2
stone Finish Load - 0.84 kN/m
2
(maximum value taken)
Supports:
Both End fixed, If I go for one end fixed and other end hinged, resulting in higher reactions and even higher deflection.
So, I considered both end fixed. Knowing that I have to release moment at one end, assigned both end fixed to reduce deflection.
I have analysed in Staad pro.
Considering Stringer beam as Plate element, found with higher deflection.
If i consider Stringer beam as beam element , found with lesser deflection.
Still the deflection not in limit.
Need Clarification on Support condition and which element I have to consider for analysis? either beam element or plate element.
Link - 2
Curved Stair Sanity Check
The above link is similar to my project.
Since the post has been closed , I replied as separate thread without adding subject and content.(
thread507-430210: Curved Stair Sanity Check
)
[have you checked the deflection??
How does it works??]

Am new to this forum and of-course my first language is not English, is there any problem bcoz of that??
Thanks for all of your comments.