Cadmium Plating
Cadmium Plating
Below are a pair of AISI 4130 steel pins 0.37" diameter that were sent out for cadmium plating. They returned looking like this: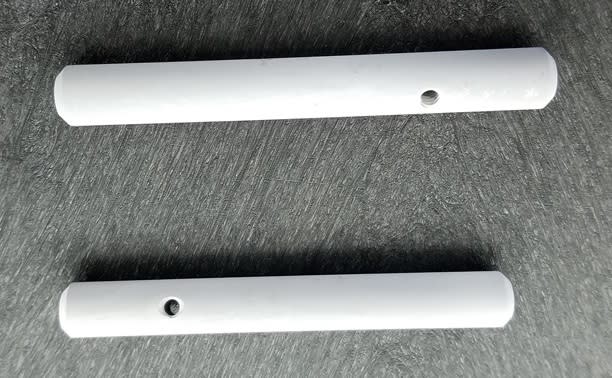 That's a color photo. The white finish can be removed with a fingernail. The processor says this is the "normal appearance". I would call BS but I don't know enough about the process to say exactly what the real problem is.
The parts are AISI 4130 steel, not heat-treated. The drawing called for "Cad plating per QQ-P-416 type I, class 2". Should this have been "Type II" OR "III"?
If I had done the drawing I would have specified Nickel plating, but I did check this drawing, and didn't catch the "Type I" so the egg's on face no matter what.
From the spec QQ-P-416:
Quote:

Types.
I - As plated
II - With supplementary chromate treatment
III - With supplementary phosphate treatment
Is this what TYPE I cad plating looks like?
STF