Weight Transfer in Multi axle suspension
Weight Transfer in Multi axle suspension
Hi,
I have the wheel configuration as shown below (This is a robotics project and wheels used are omni directional)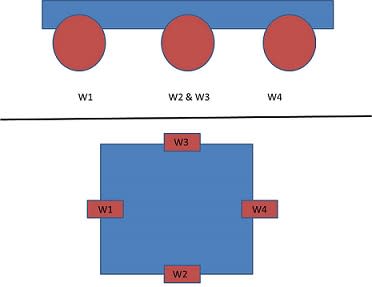 Since this is a hyperstatic situation, I am unable to calculate the wheel weight distribution during motion.
For a two axle system(4-wheeled vehicles), the weight transfer equation is the result of moment balance of the system.
But this being a hyperstatic case, I am unable to solve this indeterminate system.
Will the central wheels have the same weights even at acceleration from right to left, and the outer most wheels only will have weights transferred between them? But since the wheels-2 & 3 also have a reaction force shouldn't they also be factored in the moment balance equation for the whole system?
I have already tried solving the indeterminate system(at static condition for weights on each wheel during zero acceleration) using the theory of Deflection of beams by integration but the reaction at one of the wheel is always coming out to be negative.So I used the fact the weight on each wheel be dependent on its distance from CG of the supported body.
Any leads for weight transfer in multi-axle system will be highly appreciated.