Moment discrepancy on bridge columns for piers with same span
Moment discrepancy on bridge columns for piers with same span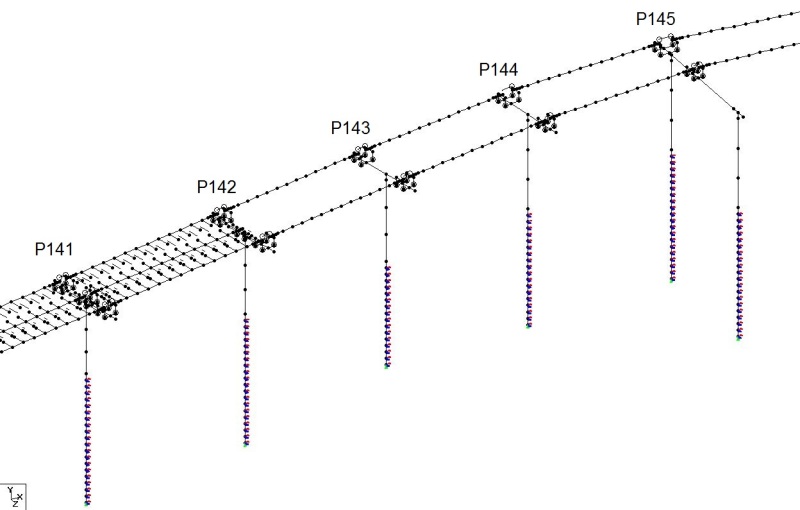 Good Day!
I am designing a 13-span curved bridge for railway, part of which is shown in the image uploaded. The members between piers in the image are the girders. Piers P142 and before support a pocket track which is why there are 3 girders. P143 onwards only support 2 girders. These are prestressed box girders.
P143 and P144 support the same type of girder, same span. P143 column is 12.7m high while P144 column is 13.6m high. Material properties are the same, column is circular with 2.2m diameter and piles are 2.8m diameter. The only major difference is the piers next to P143 and P144. As stated before, P142 is a pocket track which has 3 girders. However, P145 is a portal, which is supported by 2 columns. Also, P144 is fixed on preceding girder and expansion on succeeding girder.
When checking Strength1 axial load at the bottom of each column for P143 and P144, they are almost the same at 13000 kN.
But there is a huge difference in TRANSVERSE EARTHQUAKE MOMENTS for columns at P143 and P144. P143 column has a 35000 kN-m moment while P144 only has 22500 kN-m. When checking columns adjacent to said piers, P142 has 38000 kN-m and P145 has 14000 & 17000 kN-m for left and right columns.
Is this normal?
I am assuming that because P143 is next to P142 which is a pocket track, some of the forces from P142 is transferred to P143. On the other hand, P144 is next to a portal pier and also has expansion releases for that span which is why most forces from girder are carried by the portal. And the stiffness from the portal also reduces those forces.
But my senior is suggesting that since every parameter for P143 and P144 (span, column height, soil spring, girder, axial load, etc), one of the piers must be wrong and moment values must be close.
What are your opinions?