General gas flow equation concerns
General gas flow equation concerns
I 'm trying to apply the general flow equation for a simpe one straight line gas system and I would like to understand one thing.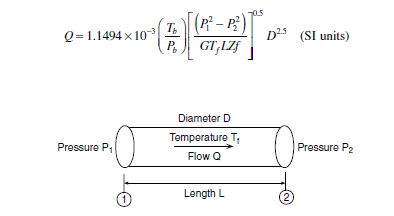 In order to calculate the flow I need to calculate the friction factor f first which requires calculation of the Re number which is depended on the flow I am looking for. I can assume a flow and iterate the calculation but the Re is also depended on the viscocity.

Viscocity however does not remain constant as the gas flows in the pipe. What value is required here if my pressure drop is, say, 50 to 30 bar? A value related to 50 bar, 30 or other?
In addition, can the general flow equation be used for accurate results on any pressure range? In other words, can I use it for pressures around 100 bar and for pressures for residential equipment with just few mbar above atmospheric?
Thank you for any help.