I dont know what to do here...
I dont know what to do here...
I got a new project - reconstruction of an existing building (RC FRAME structure). There is a new extension of this building as shown in picture below: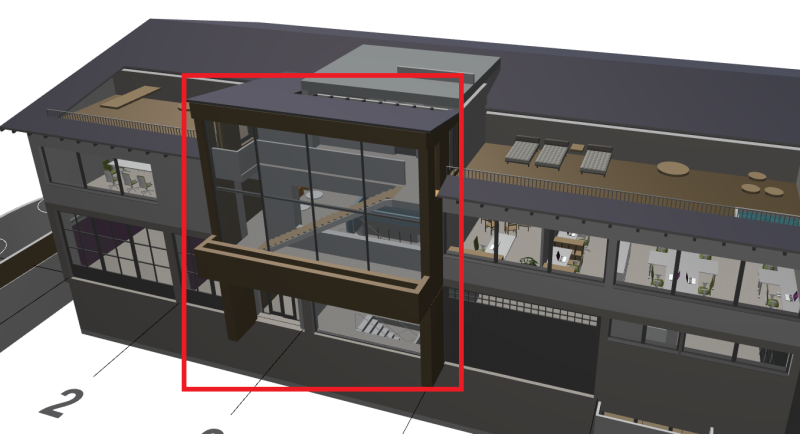 I have several problems here:
Architect insists to keep 200 mm thick RC walls and a concrete slab. Span between RC walls is approx. 9 m. so the slab is approx 9 m x 2 m (with cantilever of 1 m). At the end of cantilever there is a RC flowerpot (additional load i hate). I was thinking about using this concrete flowerpot as a deep beam (i would extend RC walls below it so it would be supported). Another problem is that there is a new steel staircase that is fixed/supported on a new RC slab. Forces/reactions are not that small and Im already having a problem because of a span itself (9 m). Another issue is a fact that this new extension is not horizontally stable since there is almost no stiffnes perpendicular to the RC walls. So the only option I see is to completely connect new extension to an existing building - anchor new slab to an existing slab (RC beam of existing frame building)and reinforce an existing beam. That way there will be horizontal stability since anchoring of new RC slab to an existing will connect both structures so in case of earthquake/wind forces will be transfered to an existing structure (new and existing structure acting as one). But I still suspect i will have issues above RC slab since RC walls are 11 m high (RC slab is at 4 m) and I ll have to provide some horizontal stiffness but i dont know how...
I was hoping to make this new extension as a separate structure but i just dont see it possible. I was thinking about making a RC moment frame but it would require larger cross section (columns + beam) and i still wouldnt know what to do about a RC slab. I was also thinking about steel structure but I dont know...
i hate it.... What do you guys think?