304H+Grade P11
304H+Grade P11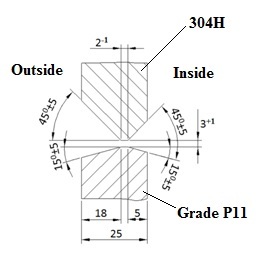 Good afternoon.
I have a situation where I have to weld a 304H pipe to a P11 pipe. (D=1800mm)
I was thinking at 2 options:
1. Welding directly with ENiCrFe-3 (no PWHT, no preheat)
2. Deposit on P11 pipe an EniCrFe-3 layer (above 6mm), after that make the PWHT of the bevel and then weld the P11 buttered with 304H pipe with ENiCrFe-3.
Does anyone encounter this situation, and can tell me which can give the weld the best results.
Thank you, and have a nice day!