Analysis of deformation of skin due to a probe
Analysis of deformation of skin due to a probe
Hi,
I have problem of finding the deformation of skin using a probe. I have identified the different layers of skin and made the model accordingly along with a probe in contact with the top layer of skin. The model is basically 15x15mm model with extrudes of different thickness for each layer.
The layers are stratum corneum, viable epidermis, dermis, hypodermis and muscle respectively. Each layer has different mechanical properties and is given isotropic elasticity condition.
The force of 0.1N is given to the probe and the bottom and the sides of the skin model are given fixed support condition.
The deformation in the first four layers are acceptable but the muscle layer acts like a cube of immense stiffness in a sense that no stress, no deformation, no strain occurs in the muscle layer. I cannot seem to identify the cause of this problem and i need some HELP figuring this out!
PS: I have attached the picture of the model, the sectional view of the results and the material properties of each layer
The model was created on SOLIDWORKS 2015
The normal strain in y-axis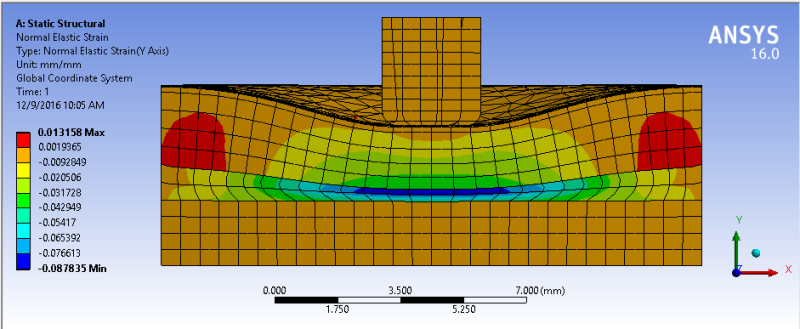 Material properties

Sectional view of deformation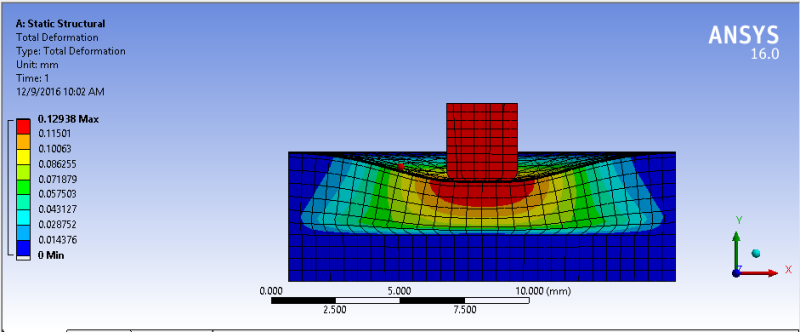 Skin model with probe
Closeup of top 3 layers of the skin