Ladder program help
Ladder program help
Need help with following program any hints will be appriciacted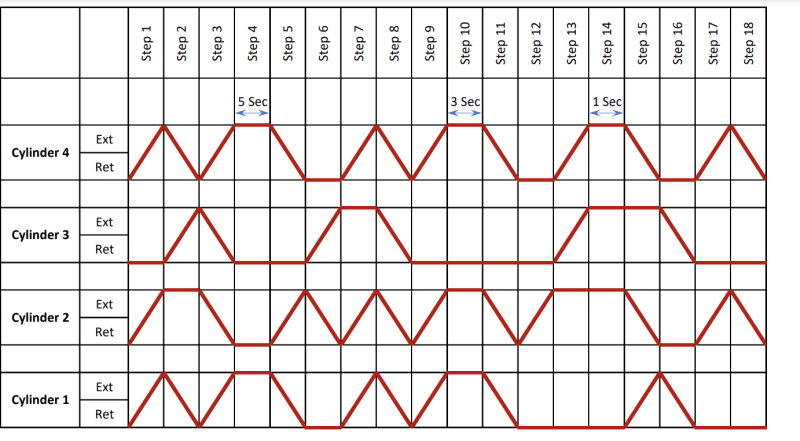 1. Program the PLC to execute the attached Step Action Diagram.
2. When the program is first downloaded, the machine should wait for the green
button to be pressed.
3. Once the A button is pressed, the machine should start from step number 1 and
then proceed through steps 2,3,4,etc.
4. Make the program cycle through repeatedly, with a 1-second pause between each
cycle.
5. If the B button is pressed and released while the machine is running, the
machine winds down to stop at the end of the cycle.
6. If the C button is pressed while the machine is running or winding down, the
machine undergoes an emergency stop at the end of the current step.
7. If the D button is pressed during an emergency stop, as it is released the
machine gets reset and any extended cylinders are retracted in the order:
cylinder 4,
cylinder 3,
cylinder 2,
cylinder 1.
8. After being reset or wound down as described above (in points 7 and 5), if the
A button is pressed, the machine restarts from step number 1, and behaves
as described in point 3.
9. If the A button is pressed during an emergency stop, the machine returns to
the mode it was in when the emergency stop was activated and resumes from the
step it was up to.
10.Any button or combination of buttons not assigned a function, must do nothing
if pressed.
11.If on the most recent occasion that the A button was used to start the
machine from step 1, a double click (A double click is defined as the button
being pressed twice in 0.5 seconds) was used rather than a single click; steps 6,
7, 8, 9, 10, 11 and 12 are repeated twice during every cycle.
12.This continues until the machine is next restarted from step 1, as described in
points 3 and 8.
13.During the repeating steps operation, the buttons all function as described for
regular running, as described in points 3-10.