Power Transmission Ideas for a Coaxial Wind Turbine
Power Transmission Ideas for a Coaxial Wind Turbine

so the problem I'm dealing with is I have one generator, which does not accept any shafts (the generator itself for some reason i dont understand has a shaft, sigh.) and I will put this somewhere in the wind turbine nacelle or tower.
The wind turbine layers both will rotate in the same direction, so the shafts coming out from (inside the nacelle) them will also rotate in the same direction as each other. What is the most efficient way of delivering power to this generator? (this is the problem statement)
my considerations so far:
since the generator can't accept any shafts theres no chance of putting it into the nacelle. i will have to suspend it in the turbine tower somehow (below the nacelle) so then
I need a mechanical power transmission element that will be at the centre of the nacelle, and be input with the mechanical power of both turbine shafts, and change the axis of rotation from horizontal to vertical. then transfer this power to another shaft, and this shaft would of course be facing downwards and this shaft would rotate a cylinder whose purpose it is to fit into the generator's shaft.
i have included a work of art to illustrate what i mean:
i will then need to ensure this setup doesn't fall apart with bearings and whatnot but idk how that works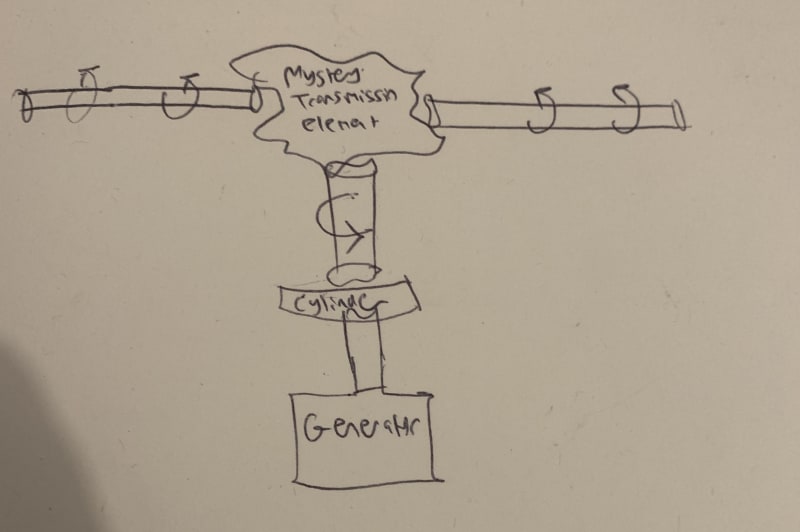 note: its not like i want to reinvent the wheel but i couldn't find any co axial hawt models online.
btw I can make the shafts of the turbines rotate in the opposite direction to each other too if that helps power transmission
thanks guys