Retaining Wall design in submerged conditions
Retaining Wall design in submerged conditions
For my final degree project I am working on designing a retaining wall that would have stopped a large scale slope failure from occurring. I have largely no input here and am just to figure things out based on research and prior coursework.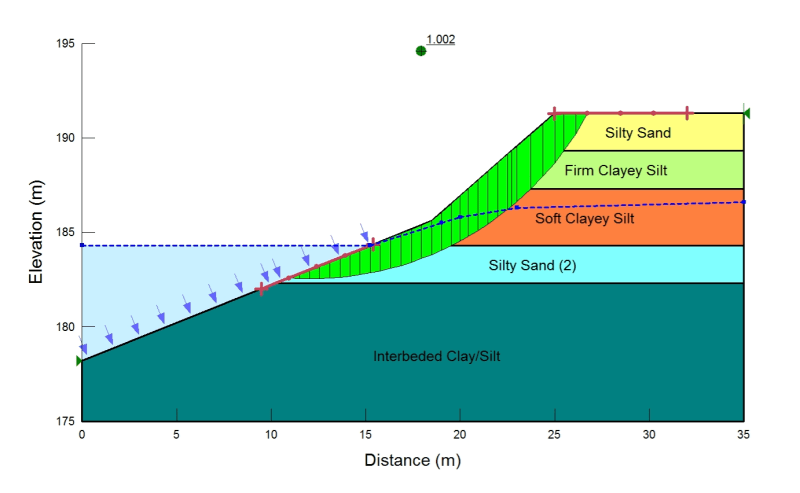 Above is a picture of the slope I am dealing with, that I have modelled in geoslope, along with it's base FOS using Bishop. It showcases the low phreatic surface scenario, but it may also be as high as 0.6m from the ground surface (there is a hydro dam downstream causing constant rapid river fluctuations, according to prior analysis of the real slope failure, this rapid drawdown had very little impact on the slope failure).
I am currently trying to design a counterfort wall to deal with the steeper portion of the slope, as this is largely where the failure has occurred. Right now I am looking at a depth of approx. 9m, with 3.3m of soil on the toe of the wall to aid in sliding resistance and to cover frost depth.
A few concerns/areas of lacking knowledge I have run into:
- It seems that the best bet is to just consider the entire retained soil to be submerged (going off the Canadian Geotech Handbook, which states to consider water below the phreatic surface, regardless of drainage supplied). This adds significant lateral force, and reduces the weight of both the concrete and soil resisting overturn, as I am taking them as their buoyant unit weight. As funny as it seems, in any of my geotech design courses, I have not covered dealing with water being retained, it was always assumed drainage would be ample and thus water could be disregarded, so this has been all new to me.
- The interbedded silt layer I am placing the base on is cohesive... But just barely (c'=5kPa), so building sliding resistance is proving to be very challenging. I had considered a shear key, but it seems it would be quite substantial in dimensions.
- Finding material on the structural aspect of designing a counterfort wall has proved challenging. I find some snippets here and there. Overall wall design is not something I have touched on in my concrete design course or geotech courses.
I suppose I am just looking for any advice/pointers/indication I am on the right track.