Critical Buckling Load For Global Instability
Critical Buckling Load For Global Instability
Hi Everyone,
As you can see below, in Eurocodes, if α
cr
< 10 then need to consider P-Delta. I can understand individual member Euler buckling but I am struggling to understand what this F
cr
elastic critical buckling load for global instability is? Can someone please walk me through the steps to get this F
cr
. Also, I just started using ETABs is this α
cr
the same as buckling load factor under buckling load case in ETABs?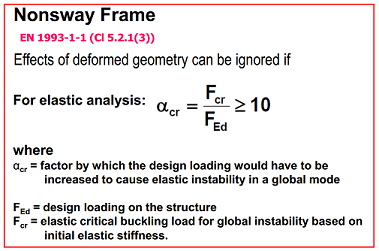 Thanks