Heating concrete with water/glycol. Tryinig to quantify response time based on slab thickness
Heating concrete with water/glycol. Tryinig to quantify response time based on slab thickness
I'm planning on heating a new concrete slab foundation at an industrial facility using an existing 50% water/glycol source. The purpose of the hydronic heating is for snow melt. I'm trying to calculate the time it would take to raise the surface temperature of the slab to 40deg F for a few different scenarios assuming that the entire slab is starting at 0deg F. Two scenarios I'm looking at would have the W/G tubing installed underneath 12" or 18" slabs (which would be easier to construct) and one scenario has the tubing installed within the concrete 6" beneath the surface (the deepest depth I've seen recommended in literature, which is oriented at driveway and sidewalk installations)
My problem is that this doesn't seem to be a trivial ask. It's a transient heat transfer problem involving not only the thermal properties of the concrete, but also the heat lost to the air and soil as the body begins to heat up. It's a real head-scratcher that has me cracking open my old Incropera Intro to Heat Transfer book.
If anyone could point me in the right direction I'd be very grateful. If anyone wants to take a crack at it, the details are below.
The water glycol can be assumed to be an average of 150deg F. This is a small stream tapped off of a large set of boilers so energy use is of little concern for this application.
The concrete is assumed to have a thermal conductivity, k = 0.98 BTU-ft/ft^2-F-hr
The convection to the atmosphere at the top of the slab, h = 2 BTU/hr-ft^2-F
The insulation below the slab has a R-value of 10 ft^2-F-hr/BTU
Sketch attached showing the three scenarios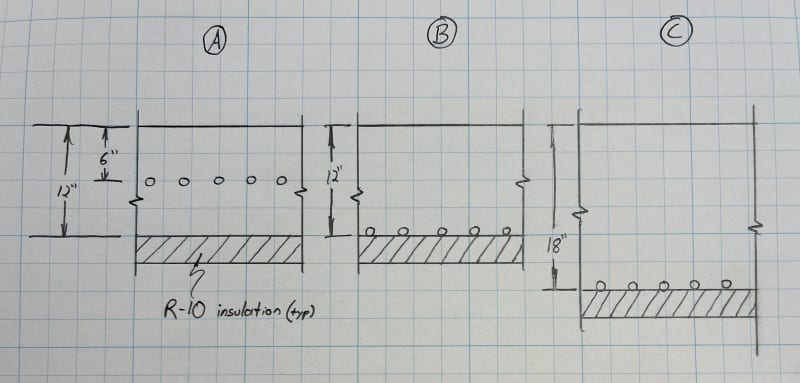 Thank You,
-NRNEngineer