A significant development is impacting one of my hobbies...
A significant development is impacting one of my hobbies...
I have a couple of hobbies, but the oldest is that I collect used money. That is, I collect coins. My father got me started when he gave me a bunch of old coins, some that he got from his father. Up until I went to college I worked on it on and off, buying new coins from the bank and occasionally ordering some from coin magazines, but I sort of let to go dormant for several years with my coin books stored at my mother's house. After we moved to SoCal in 1980, I took the collection with me and started to work on it again, but I was still more of an accumulator than a collector until about 25 years ago when I got a lot more serious. Since then I've not missed any new coinage getting mint and proof versions of the coins (I stick to most US coinage but I have a lot of foreign stuff, just not as well organized or cataloged). I've also invested some in filling empty spots in my coin folders and have done pretty good. Now I've never gotten into Gold, but I do have a fair amount of Silver (including several hundred Silver Eagles).
Anyway, it seems that US Mint is about to discontinue the penny. In fact, the coinage of US pennies will cease on April 1, 2023. It's be interesting to see how the Mint handles the sale of these last couple of years of pennies. At the moment, you can buy collector quality coins directly from the Mint including pennies, either by the bag or as part of 'sets' like Proof and Mint sets (I buy at least two of both of these sets each year). While they haven't announced it yet, we have to assume that there will be both Mint and Proof sets for 2022 and 2023 which will include a penny. Now it will be interesting to see at what price they sell these sets. This last year, Mint sets went for $25.25. This included 14 coins, seven from the Denver and seven from the Philadelphia Mint. Proof sets went for $32.00 for the clad coinage, again, seven coins from the San Francisco Mint, and $105.00 for the Silver proof set, again, seven coins from the San Francisco Mint.
The reason that I'm wondering about the price that the Mint will be charging is because out on the net, there is already speculation that these last two years of pennies could bring a premium price to collectors, some suggesting that the mint version of a 2023 penny could sell for $100 or more and the Proof versions will go for even more.
Anyway, the Mint has a subscription service which I'll sign-up for as soon as they make the 2022 Mint and Proof sets available for the program so as to lock in my purchase.
And just for interest, the oldest coin in my collect turns out to be a penny, in this case an 1837 Large Cent: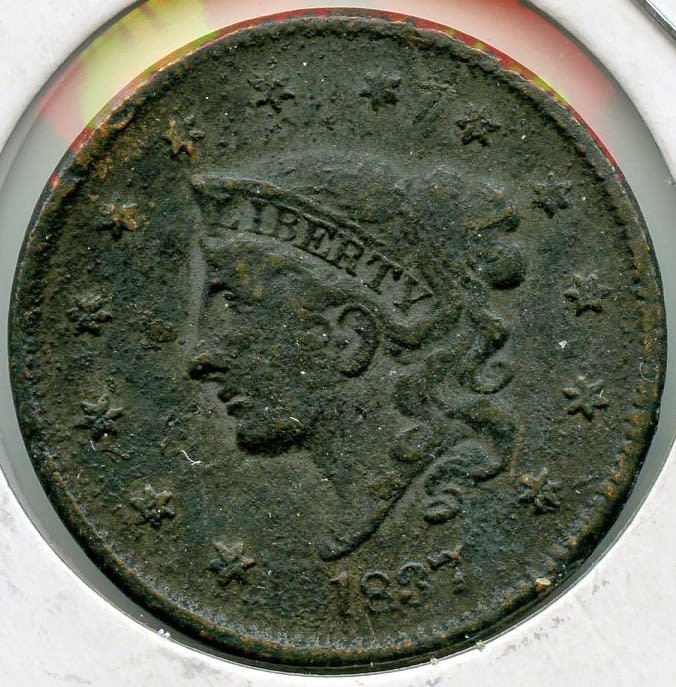 Which is worth, according to the most recent 'Red Book', $35.00.
Note that I currently have 12,487 coins in my US coin collection, valued at $36,978. And I'm up-to-date as far as 2021 mintage goes. The first of 2022 coins from the Mint will go on sale the first week of January, with the release of the National Purple Heart Hall of Honor Commemorative series, of which I'll be buying the Silver and Clad Proof versions of the coins.
John R. Baker, P.E. (ret)
Irvine, CA
Siemens PLM:
UG/NX Museum:

The secret of life is not finding someone to live with
It's finding someone you can't live without